As the developer and contractor, Habitat – along with our volunteers –completed the first community of 40 cabins on Mabury Road last winter. These cabins include features that ensure safety and basic comforts, like a locking door, dual-pane windows, insulation, heating and cooling, shelving, indoor lighting, and a smoke and carbon monoxide detector. At the heart are community spaces for gathering, as well as common buildings for kitchen, laundry, bathrooms, showers, and sanitation.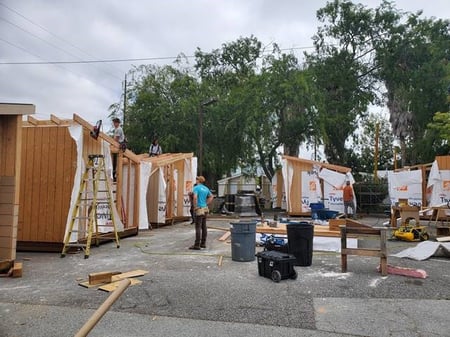 Meeting spaces and technology access facilitate case management and supportive services, provided by our partners at HomeFirst. The full community is surrounded by an attractive perimeter fence, and offers onsite security and parking. Even in its first few weeks, the Mabury community already began "graduating" participants into permanent housing. We look forward to replicating that success with the forthcoming BHC, currently under construction, and due to open on Felipe Avenue later this year.
Habitat is also partnering with the City of San José on Emergency Interim Housing (EIH), an effort to mitigate the spread of COVID-19 among people experiencing homelessness. Our unhoused neighbors are at especially high risk of contracting and spreading COVID-19. By providing a safe way to self-isolate, shelter-in-place, and access sanitation facilities and key services – and specifically targeting those at heightened risk due to age and existing health conditions – EIH developments will keep these neighbors safer and, in turn, protect the community at large as well. Habitat is building three EIH communities.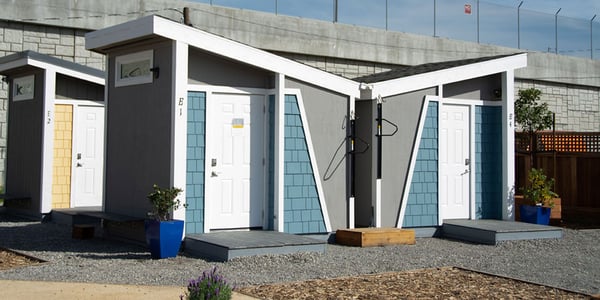 The first, at Monterey and Bernal Roads, will offer safe shelter and services to 78 residents, and is due to open in early summer. Two more EIH communities will follow later in the summer. On Evans Lane, an EIH community will serve families – offering shelter to up to 120 people. An EIH community on Rue Ferrari will serve individuals and couples – up to 120 people. All units in the EIH communities will include separate shower and restroom facilities to maximize physical distancing. The communities will also feature facilities for supportive services and living needs, in addition to a perimeter fence, onsite security, pet accommodations, and parking. As the COVID-19 crisis subsides, these communities will join the BHC communities in purpose and function – offering a safe, habitable, and comfortable way for our neighbors to build a path out of homelessness.