The Women's Leadership Council is putting action behind advocacy when combating with the affordable housing crisis. The founding members, Kelly Kline, Rebecca Wang, Laura McCarthy, and Kimberly Sauceda are using this initiative to build a platform for women leaders to gather and promote the significance of homeownership.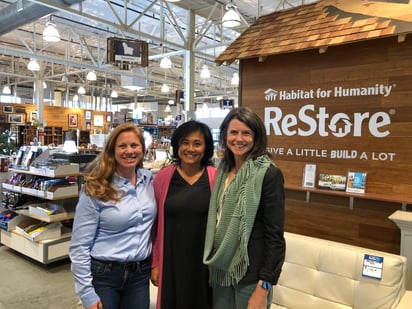 The Council encompasses the resources, knowledge, and drive of economic development professionals, executive housing relators, and city officials. The reason? To leave a lasting impact for families in need of an affordable place to live.
Kelly recognizes, "Each project 'build' brings so much more than the physical structure. The process itself forever changes the residents, and the many people who came together to invest in their future friends, neighbors and co-workers."
Not only do these women understand the need of affordable housing in the Bay Area, but by organizing this council, they are taking action to support it. Rebecca has supported Habitat for many years and shares, "I'm committed to working with the organization to help solve the issue of lack of affordable housing in the Bay Area. And rallying more women to take a leadership role in this social challenge."
So, let's come together as mothers, daughters, sisters, aunts, grandmothers, and leaders. Let us build the foundation that will bring forth strength and success. To ignite the light toward opportunity brought through homeownership.
To become a part of this extraordinary group of women leaders please email Laura McCarthy at Kimberly Sauceda.
To support the Women Leadership Council and to honor the women in your life, please consider donating toward this initiative and help build a home for a family in our Central Commons development.