In an effort to keep our communities safe, we're bringing this year's ride to you with Cycle of Hope: Ride from Home! The best part about taking our annual ride "virtual" is that it offers riders AND non-riders a chance to benefit Habitat for Humanity on their schedule and in their own way.
If you're a cyclist at any level – from new to experienced – and want to support Habitat with a push of the pedal, sign up for your goal distance club and choose one of our curated courses in either Silicon Valley or the East Bay, or choose the "anywhere" option to ride for your goal on a course of your own design!
Is cycling not your thing but you still want to build homes, communities, and hope with Habitat for Humanity? Here are 3 (of the many) ways you can get still get involved with Cycle of Hope – no bike required!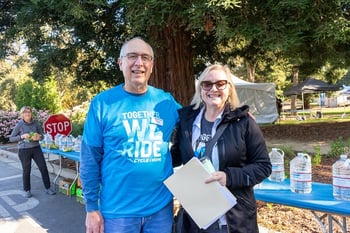 1. Run, Walk, or Hike
In this unique year, we're opening up registration to those who would like to run, walk, or hike. Ride from Home is not about how you ride; it's about how far you'll go for Habitat! When you register for Cycle of Hope, sign up as an individual or get your friends and family involved and sign up as a team. Then, select the mileage club you want to join based on your distance goal – 11-mile, 32-mile, 62-mile, or 100-mile – and choose "Anywhere" as your preferred way to reach your goal. Finally, complete your distance your way on any day, at any time, between October 10th and October 25th. Whether you walk, run, hike, etc., be sure to power up RaceJoy to track your distance and document your results, so you can be honored at our finish line celebration!
*If you would like to reach your distance goal over multiple days or on a stationary trainer, please contact Hilda Schmelling to learn how to submit your results!
2. Become a Fundraiser

Our Cycle of Hope community includes more than cyclists! Become a volunteer fundraiser, and help raise critical support for Habitat for Humanity. With a personal fundraising coach and perks to keep you motivated, raising funds is easier than ever! Just register and choose the free "Volunteer Fundraiser/Recruiter" option as your ticket, and you'll be well on your way to supporting Habitat without strapping on a helmet.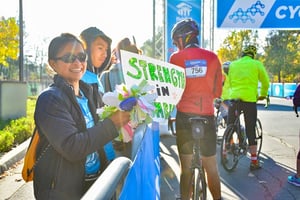 3. Join our Virtual Cheer Squad

Through our official ride app – RaceJoy – participants will be able to hear from our Virtual Cheer Squad to keep them motivated as they reach their distance goal. Click here and complete the form to learn how you can cheer on our community from the comfort of your couch!

Cycle of Hope is a community with a shared finish line – a world where everyone has a decent place to live. No matter how you get involved with Cycle of Hope, you'll help us build that world.