Get Involved
We don't just believe in change. We build it!
Get Involved
Volunteer Opportunities
Volunteers are the backbone of our mission, enabling us to bring a community together to transform lives and help neighborhoods thrive. With volunteer opportunities in the East Bay and Silicon Valley, building homes or behind the scenes, everyone can make a difference.

Your support, time, and heart make dreams a reality.
FREQUENTLY ASKED QUESTIONS
How do I get there? Where should we park and meet?

We encourage you to carpool or take public transportation, to meet us at the worksite. We usually have a Volunteer Kiosk on site for registration. Parking is typically available on the street; exceptions will be noted when you register for a workday. Please pay close attention to any posted street signs restricting parking for local residents.
What kind of skills or experience do I need?

No skills or previous experience is necessary. Our sites provide all the training you will need!
Do I need to bring any tools?

We provide all the tools you'll need. If you have a favorite hammer or other tools you'd like to use, please be sure to label personal tools with your name.
What should I wear?

Please wear comfortable clothing that you don't mind getting dirty and sturdy, closed-toed shoes. Most volunteers wear:

Sneakers
Jeans or shorts
Old t-shirt
An old sweatshirt
Layers and sun protection to be prepared for any changes in the weather!
Can I leave early or arrive late?

We ask that volunteers commit to the full time span of any event. That way, everyone receives all the key orientation and safety instructions at the start of the event and helps through cleanup at the end. If you are unable to commit to a full day, some volunteer opportunities offer half day options.
How can I get proof that I completed my hours?

Habitat staff will be happy to sign any forms that verify volunteer hours once your hours have been completed. So please remember to bring your forms with you.

If you do not have a form, we are happy to provide an hours verification letter after your last day of service by:

Emailing Volunteer@HabitatEBSV.org and request an hours verification letter
Include the site, date, and number of hours for each volunteer event you would like verified (only include volunteer events that have already occurred).
Please allow up to two weeks to get your hours verification letter.
Do I need to attend a volunteer orientation?

No! We start each volunteer day on site with a short orientation about Habitat and our current projects, safety information, and task assignments/instructions.
How old do I have to be?

For safety reasons, all volunteers must be at least 16 years old– even with a parent/guardian. Volunteers ages 16 - 18 must bring a signed minor waiver form with them to site.

If you are 15 or younger, we have a few alternative volunteer options such as fundraising, handing out flyers, or preparing lunch for site volunteers.
What should I bring?

Be prepared with: a reusable water bottle; sturdy, closed-toed shoes; work clothes; clothing layers; a hat; and sunscreen. We will provide tools and safety equipment, but you can bring your own tool belt, gloves, and tools if you wish. If you have a favorite hammer or other tools you would like to use, please be sure to label personal tools with your name.
What about rain or other conditions?

For safety reasons, we will close the site in the event of heavy rain, but we generally work through light showers. After 7:00am on the morning of your volunteer day, call 510-251-6304 and follow prompt #7. If the site is closed due to rain, the message will say so. If the message makes no mention of rain, assume the site is open.
How do I bring out a group?

We offer a variety of different volunteer opportunities for groups of any size. If you are part of a company looking to volunteer, please visit our Company Team Building page for more information. If you have five or more participants and are part of a school, community, faith, or other group, please visit our Faith & Community Groups page for more information.
Is lunch provided?

Lunch is not provided, with special exceptions. Volunteers bring a sack lunch or plan to purchase lunch nearby. Your lunch break is short, so bringing a lunch is recommended.
How do I give feedback?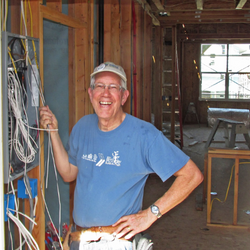 There are no upcoming events scheduled at this time.
A Sincere Thank You To
Our Sponsors
Stay in the know
GET VOLUNTEER UPDATES!
Sign up for Hammering Home, Habitat for Humanity East Bay/Silicon Valley's monthly volunteer newsletter, to stay updated on all ways to get involved at Habitat!