A note from Janice Jensen, President & CEO:
Dear Habitat Family,
I hope that you and your loved ones are safe and well.
The Bay Area-wide shelter-in-place order has officially been extended until at least May 3rd. Habitat East Bay/Silicon Valley will continue to observe the order by extending the suspension of volunteerism until at least May 3rd. The suspension applies to all volunteerism – Central Commons, Bridge Housing Communities, Playhouse, and all ReStores.
In these circumstances, I appreciate more than ever what a precious resource our volunteers are. I look forward to that moment when we can welcome your helping hands back into our work. Until then, you can stay engaged by connecting with us on social media, and by supporting our COVID-19 Resiliency Fund – a fund created to support Habitat as we build a path toward healthy, stable, and safe futures for families impacted by this pandemic.
We'll continue to update our blog with new information as the situation evolves. Be well, and I know we'll build together again soon.
Yours in partnership,
Janice Jensen
President & CEO, Habitat for Humanity East Bay/Silicon Valley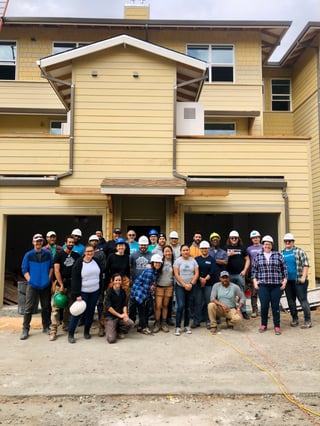 With the help of our annual All Staff Volunteer Day, new Regular Volunteers, and, of course, neighbors and community members, here's what we accomplished on the construction site in just the first two weeks of March.
Fremont (Central Commons – 30 new homes, 2nd phase): Phase 2 of Central Commons is looking more and more like a community of 30 new homes. Volunteers helped put up drywall, paint garages, shingle rooftops, and work on a bit of framing to help our staff and AmeriCorps make much needed progress in Fremont.
San Jose (Bridge Housing Communities – San Jose): Volunteering in San Jose means making a difference in the lives of people experiencing homelessness. In just a few short weeks volunteers got the first six cabins of the second Bridge Housing Community framed and weatherized. Next up, our team is working on rafters, siding, fascia exterior trim, soffits, and drywall. When volunteers come back onsite, we'll be starting interior work!