Fremont (Central Commons – 30 new homes, 2nd phase): So much paint! As we approach the finish line on the last 19 homes at Central Commons, our team has been working on painting, caulking, wrapping up a punchlist of tasks outside, and further beautifying the development with landscaping.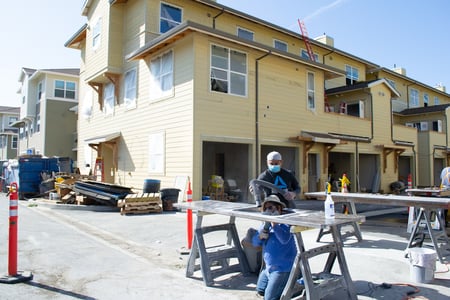 San Jose (Bridge Housing Communities Production Yard – 1590 Las Plumas): When you join us at our Bridge Housing Communities production yard, be prepared to buckle your tool belt! We've been busy putting in windows, installing accent siding, framing walls and floors, painting, installing signs, fence spraying drywall, attaching exterior trim, standing walls… excuse us as we take a short pause to catch our breath! Okay, let's continue… we've also been working on electrical, rafters, fascia, roofing, roof decks, house-wrap, and tree trimming to prep our cabins for installation!
New Development Alert!
Walnut Creek (Esperanza Place – 42 new homes, Pre-construction – 1250 Las Juntas Way): We're getting our new development, Esperanza Place, ready for the construction of 42 new Habitat homes! This month, our staff and volunteers started working on fence demolition and tree protection to prepare for soil remediation and site work. We're excited to get Esperanza Place groundbreaking-ready!