Community Means Family at Cycle of Hope
November 16, 2023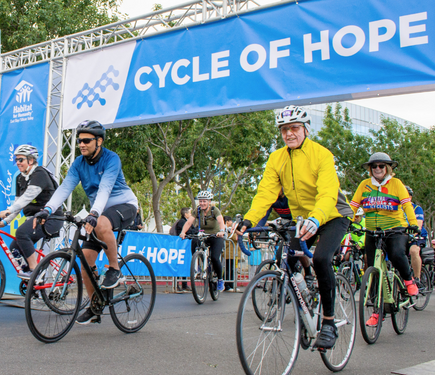 Valerie didn't participate in Cycle of Hope from the seat of a bicycle, but she can identify with the payoff of a great workout. In fact, she got one of the best workouts of her life 22 years ago, when she worked alongside Habitat volunteers to build her home in Crockett.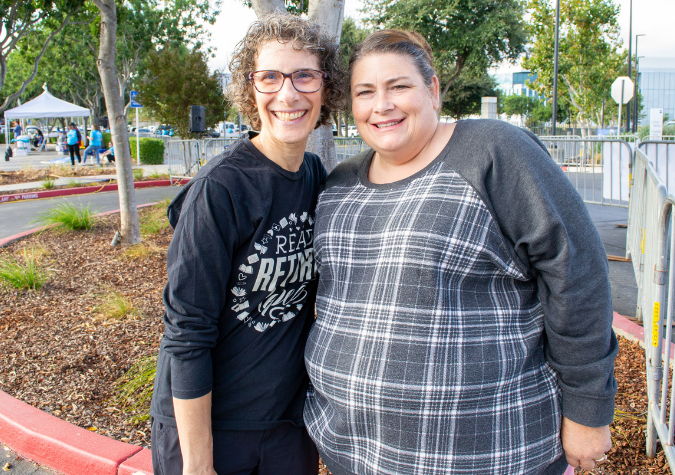 "I lost 25 pounds, because construction work is really, really hard!" she told the crowd gathered at last month's benefit ride. "But, you know what? It's very rewarding, because at the end of the day, the wall that wasn't there is now there. The roof that wasn't there is now there… It was amazing!"
Valerie was one of nearly a thousand people who took part in the event on October 22 at the Dublin headquarters of Presenting Sponsor, Patelco Credit Union. Between cyclists, spectators, and volunteers, the Patelco campus was buzzing with energy and community. As 682 riders took on 9-mile, 33-mile, and 62-mile courses through the beautiful Tri-Valley, families enjoyed a host of activities from bounce houses and face painting to a Bike Rodeo and Kids' Ride. And while the scenic routes, event swag, and festive atmosphere were huge incentives – what really brought the community out to Dublin on a Sunday was the chance to support Habitat East Bay/Silicon Valley. And that, they did, with an incredible $247,000 raised!
2024 CYCLE OF HOPE REGISTERATION IS OPEN FOR A LIMITED TIME!
Register by 11:59 p.m. on November 22nd get our absolute BEST price to ride Cycle of Hope in 2024!

That fundraising means we can partner with more homeowners like Valerie, whose three children have grown and graduated from college, who has returned to college herself to achieve her dream of becoming a children's librarian, and whose husband is working at a great, stable job. Valerie, whose family had previously moved 11 times in 17 years, and is now just a few years from paying off her mortgage.

Veronica, another longtime Habitat homeowner in neighboring Livermore, also joined for the day, eager to address cyclists before they set off on their courses. "If you're out there riding and it starts to get tough," she told them, "I hope you'll think of me and my family." For Veronica, seeing hundreds gathered to ride so that Habitat can build more – it brought to mind the way she felt 17 years ago when volunteers helped build her home. "I'm so proud to call you my community," she said.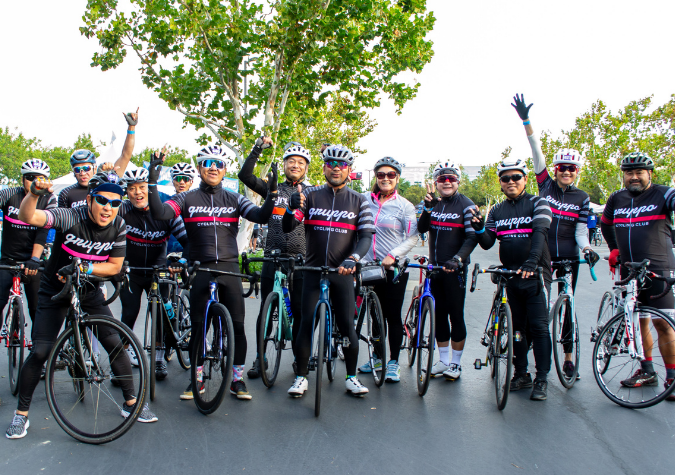 And "community," to Veronica and Valerie, is so much more than a buzzword.

"Community means family, and you are all part of it in a large, large way," Valerie said. "Thank you for being here, thank you for riding, thank you for fundraising, and thank you for coming out on a Sunday! You gave of your time, and I want to say it's making a difference in this world. It's making good, and we need more of that."
Relive some of the best moments from Cycle of Hope 2023!
Check out all the photos from the 2023 ride or watch some news coverage of this unforgettable day: