Habitat has so much to be thankful for this Thanksgiving. From the dedication of our volunteers, the support of our donors, and the love of our community, we can't say thank you enough! We're especially thankful to this folks on the construction site building out our mission. Check out what they have been up to this past month: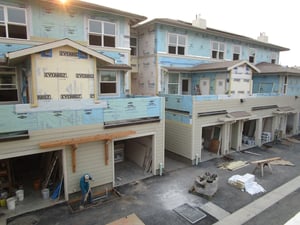 Fremont (Central Commons – 30 new homes, 1st phase): Fremont has come a long way since its groundbreaking debut. We hit the ground running, and with the help of all our individual and group volunteers, we've made tremendous progress on phase one. This month, we're working on siding, installing exterior trim, interior painting, finishing electrical, and getting those stairs skirted. Join us on site on January 12th to welcome these families home at the Central Commons Home Dedication!
Home Preservation Projects: We've got quite a few projects underway as part of our Home Preservation Program this month. You'll find our team and volunteers working on projects such as framing decks and installing windows in San Jose!
Join us as we continue to build and repair homes this month. Sign up to volunteer and learn from our professional and friendly team!