Hello, Spring, are you there? The odd weather hasn't stopped Habitat's hands-on work in the community! Volunteers continue to stay busy on projects in Fremont, Martinez, and San Jose.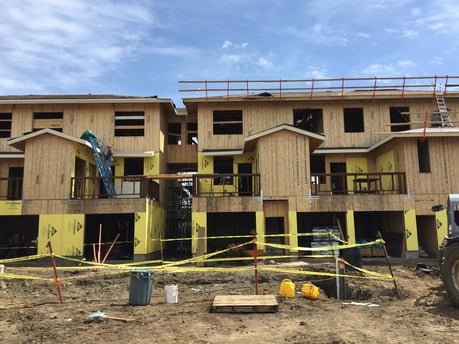 Fremont, Central Commons (30 New Homes): This 30-home development in Fremont has been bustling with volunteers. Thanks to corporate, faith, and community groups volunteering on site as part of our Beloved Community events, progress is being made! Exterior drywall and roofing are next on the to-do list.
Martinez, Muir Ridge (20 New Homes): Volunteers are inside the final four homes of this 20-home development, working on tasks like installing tile, interior trim, flooring, and porch decks!
Home Preservation: A lot work on homes in San Jose has been keeping volunteer busy! Projects like installing grab bars, new stairs, and flooring are helping keep families in their homes and ultimately preserving the affordable housing market.
ReStore: ReStore's favorite holiday, Earth Day, is around the corner! While our four ReStores help Habitat provide affordable homeownership to families, they also divert tons of materials from landfills. Furniture and home goods get a new life, helping Habitat make maximum impact with minimum footprint. Read how the ReStore impacts not only our community but our world.