This month, we have two groups of volunteers building in El Salvador as part of a two-week Global Village trip. Wish them well and check out the photos as they keep coming in!
Meanwhile, we still have volunteers making a difference locally. Check out what we have going on onsite!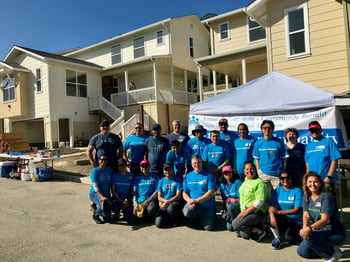 Fremont, Central Commons (30 New Homes): The height doesn't scare some volunteers and our construction staff off from getting our roofs installed! Other volunteers are on the ground helping with exterior drywall and prepping the buildings for siding.
Martinez, Muir Ridge (20 New Homes): The last four homes of this 20-home development are getting all polished up for completion! Volunteers are installing handrails, exterior stairs, bath hardware, and finishing off interior trim.
Berkeley (1911 Harmon St, 1 Home Renovation): Volunteers are working on installing windows and insulation to help keep this homeowner's energy bills low and his family comfortable!