The smell of fall (and pumpkin-flavored everything) is in the air! Fall means perfect weather for volunteering with Habitat. Check out what we have happening on site this September!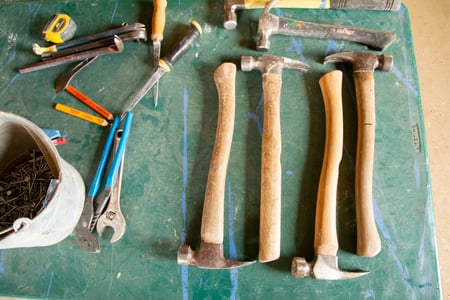 Fremont, Central Commons (30 New Homes): Thanks to countless volunteers, this construction site is turning into a community in Fremont! Projects like siding, drywall, and exterior trim are on the September to-do list. Don't know how to install siding or haven't screwed in drywall before? Don't even know what drywall is? No problem! Our team of construction professionals is here to teach you everything you need to know. Learn more about volunteering.
Berkeley (1911 Harmon St, 1 Home Renovation): What did the rug say to the floor? "Don't move, I've got you covered." You guessed it! Volunteers are installing flooring this month in Berkeley. Up next, putting up a new fence!
Home Preservation Projects: Our Home Preservation team is gearing homes up for the rainy season ahead. Volunteers are helping repair roofs and siding, and making other critical home repairs in San Jose and Alameda this month!