Just as summer draws to an end, so does construction for many of our projects. Habitat staff, regular volunteers, and volunteer groups worked tirelessly over the last few months to get homes ready for move-in and construction sites ready for groundbreakings. While we might not have the sounds of hammers and the smell of paint on-site, check out the progress we've made on completed sites and updates on upcoming developments!

Oakland (Manila Avenue): Volunteers wrapped up construction on this two-bedroom renovation, and we passed final inspections at the end of July. The future homeowners have completed sweat equity and are eager for a November move-in that will mean family dinners and a peaceful place to study!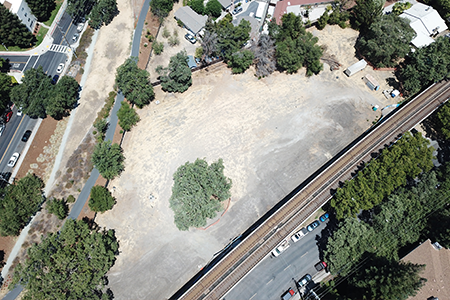 We anticipate renovations on the neighboring home to start with demolition (and a lot of it!) toward the end of the year. Turning this three-bedroom into a four-bedroom home is a big lift, so our staff is working closely with the City and architects to finalize construction plans and permitting.
Walnut Creek (Esperanza Place): Building permits are currently under review by the City of Walnut Creek for this 42-home development. Once approved, we'll have shovels in the ground starting with foundation work in late September. We're still on track to welcome volunteers at the beginning of next year!

San Jose (Guanacaste Court): Last month we shared our excitement that this three-bedroom renovation project was done, but now we're more excited to share that this home has sold! We're so proud of our Habitat community for helping this family achieve strength, stability, and self-reliance through homeownership.
San Jose (4th & Reed St): Now that this historic building has been relocated, we're securing entitlements, working with the City of San Jose on applications for the new foundation and site design, and fundraising the support we'll need to renovate this beautiful property into four affordable homes. We hope to start welcoming volunteers at the start of 2022!
Stay updated on these volunteer opportunities by following @HabitatEBSV on Facebook and Twitter and @Habitat_EBSV on Instagram!