It's still summertime on site with Habitat, but we're not taking it easy! There's lots to be done, so read on for the details!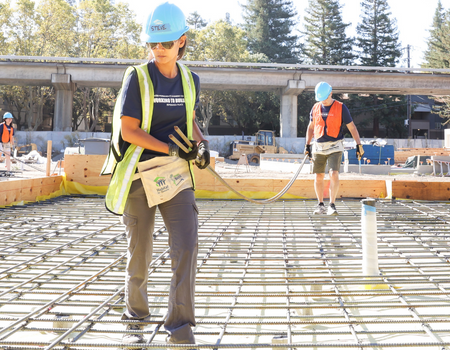 Want to be in the know on all things volunteerism? It's easy once you're signed up for our monthly volunteer email!
Oakland - Renovation
It won't be long before this home on Manila Avenue is family-ready! The outside is getting dolled up with some exterior painting, while the inside is getting fresh tile and trim work. If you'd like to snag a spot on our volunteer crew, take a look at our Oakland volunteer opportunities!
Walnut Creek - New Home Development, Esperanza Place
Volunteers are hard at work preparing the way for yet another new foundation out in Walnut Creek, which means they're calf-deep in rebar! There's more to be done, though, with exterior fiberglass sheathing getting installed on the walls we've already raised. That all means there's no shortage of places to be a part of the action, so browse our volunteer opportunities in Walnut Creek to join the fun!
San Jose – Neighborhood Revitalization
We're nearing the final stage on the Rotary Club's deck down in San Jose, sprucing things up with a coat of paint. As always, stay tuned to our San Jose volunteer opportunities for your chance to pitch in on Habitat's work in the area.