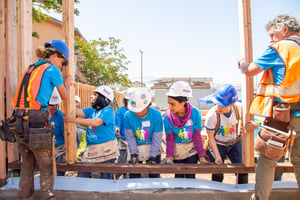 Fremont (Central Commons – 30 new homes): At the start of our Women's Leadership Build in May, Phase 2 of Central Commons was a mere foundation. By the end of the build day, the women had framed the entire first floor of a three-unit building! Since then, volunteers have helped us push that momentum up to the second floor. There's no looking down, and we're thankful for all the volunteers who came out this month, building it forward for local families.
San Jose (Bridge Housing Communities – 1590 Las Plumas, San Jose): It's an exciting time at our Bridge Housing Communities assembly site! After plastering, texturing, and accent siding, we have nearly completed the first six emergency sleeping cabins. And in even more great news, we've started the second set of cabins. With the help of our amazing volunteers, we've been working on framing, siding, exterior trim, insulation, drywall, roofing, and interior trim.
Walnut Creek (1921 Barkley Avenue – 1 home renovation): Typically, when we volunteer on renovation sites we're helping spruce up an older Habitat home that has been sold back to us from the previous Habitat homeowners! This renovation story is the making for a big rom-com! Elsy and Jose, two Habitat homeowners, purchased their Habitat homes at different times in different developments, but after meeting at a Habitat homeowner event, their love for each other brought them together under one roof as a married couple. After moving into Jose's Habitat home, we're preparing Elsy's pervious Habitat home in Pleasant Creek for a new Habitat homeowner. But first, a quick renovation. Thanks to our handy-dandy crew and volunteers. We worked on kitchen cabinets and floor repairs, and gave the whole home a fresh coat of paint!