Despite the constant rainfall, our construction crew and incredible volunteers have made quite the headway, no matter the weather! Check out what we've been working on.
Fremont (Central Commons – 30 new homes, 1st phase):
From painting, installing lights, and putting up fences and gates, phase 1 of this 30-home development is coming to a close. Now, we're dotting the i's and crossing the t's as we plan to start Phase 2 of Central Commons soon.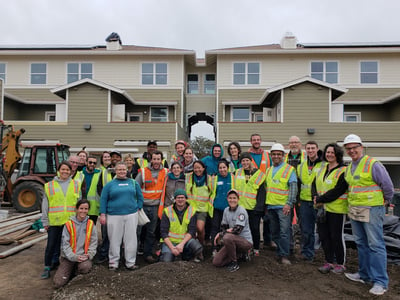 San Jose (Bridge Housing Communities – 1590 Las Plumas, San Jose):
Production is underway on a new partnership between Habitat EBSV, the City of San Jose, and HomeFirst Services. We're building a pathway out of homelessness and toward permanent housing by constructing Emergency Sleeping Cabin.
The tools are gathered, and the building has commenced! We've started framing, assembled walls, and built interior shelving. Come join this exciting and important work!
More volunteer opportunities!
Did you know we have volunteer opportunities off the construction site? You can help prep playhouses at our Oakland or Milpitas workshop, assist our team in the office, or join a committee! We serve our community in many ways. Come join us and learn more about how you can make a difference in more ways than one.