Fremont (Central Commons – 30 new homes, 1st phase): We have been keeping busy at our Central Commons development! We took on exterior planting, applied turf to the front yards, finished up the fencing, and completed our final inspection of Phase 1. Yet the most exciting news to share is that families have moved in! We're so excited that our newest Habitat homeowners are settling in their homes and the community they worked hard to build!
Now, on to the second phase! We've hit the ground running and are already framing the third building.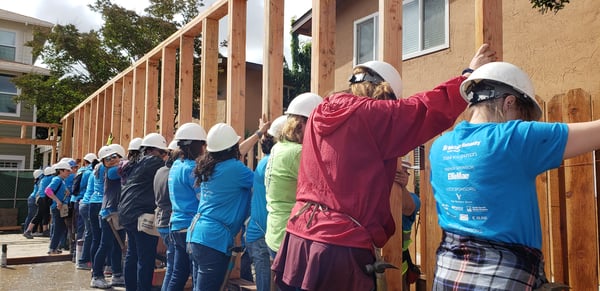 San Jose (Bridge Housing Communities – 1590 Las Plumas, San Jose): What have we been up to at Bridge Housing Communities, you ask? We've been hard at work on electrical, weatherization, corner trim, drywall, and the last of the framing for the first six-pack of emergency sleeping cabins. Our Habitat construction crew and volunteers are making headway and having a blast doing it!
Home Preservation: Our Home Preservation team has been working across the East Bay and down into the Silicon Valley this past month. Our team has been helping homeowners make repairs like re-roofing, building wheelchair ramps, installing grab bars, and much more!
Global Investment Program Update – Habitat for Humanity Malawi: Our Global Village team has returned from volunteering with Habitat for Humanity Malawi! We took loads of photos and Alayna, a Global Village volunteer, shared a day-to-day recap of what it was like to build with Habitat Malawi. From the building to getting a glimpse of daily life in the village, check out the lasting impact they've made for a family who now has a decent place to call home!