There's plenty on the docket this month, with a variety of tasks on our volunteers' to-do list. So, get the sunblock out and roll your sleeves up if you'd like to be a part of the action!
Get the inside scoop on all our volunteer happenings! Sign up for our monthly volunteer opportunities email – Hammering Home.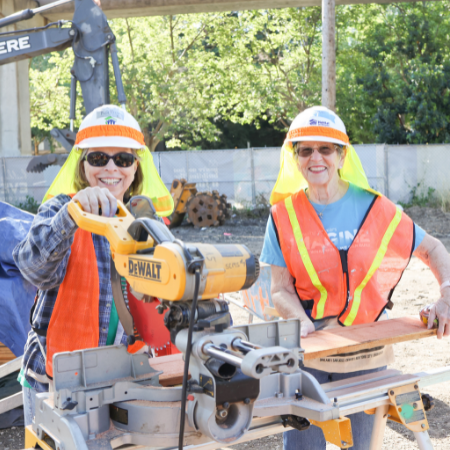 Oakland - Renovation
We're feeling wired at this major renovation project in Oakland – testing the electrical system, that is! In addition, we're finishing up the blocking, insulation, and moving on to things like interior shear panels, exterior trim, and the front stairs. Keep an eye on our Oakland volunteer opportunities to see how you can help get this home in great shape for a future Habitat homeowner.
Walnut Creek - New Home Development, Esperanza Place
There's lots to do out in Walnut Creek as we get set to pour the first of our foundations this month! While we prep for that pour, we're also working on the form for the next foundation, some under-slab plumbing, and pre-framing some walls. Take a look at our Walnut Creek volunteer opportunities to pitch in!
San Jose - Renovation
As this gorgeous historic building awaits its final move onto a new foundation, there's still plenty to do before then. We're doing site work, fencing, and treating the underside of the building to ward off fire damage. Soon, this future home of four Habitat families will settle onto its foundation, and the work of renovating will get under way.
Bay Point - New Home Development, Pacifica Landing
We're getting close to beginning work on three new homes in Bay Point this summer. As that start date nears, we're getting ready with some site cleanup, fence mending, and more, so that we can get the site in good order for construction.