We're skipping into September with much excitement and plenty of progress. From fleshing out the framing at Central Commons to finishing up interiors at our Bridge Housing Community building site, we have quite the update to bring you up to speed!
Fremont (Central Commons – 30 new homes, 2nd phase): It wasn't long ago that Phase 2 of Central Commons was just a frame, three floors high. Now we're getting to the layers of what completes a home. This month we are tackling house-wrap, stairs, drywall for interior duct chases, overhang plywood, roof prep, and roofing. It doesn't stop there – we're also working on exterior cladding, forming for planters, and the start of exterior trim/siding. You can see the progress just thinking about it!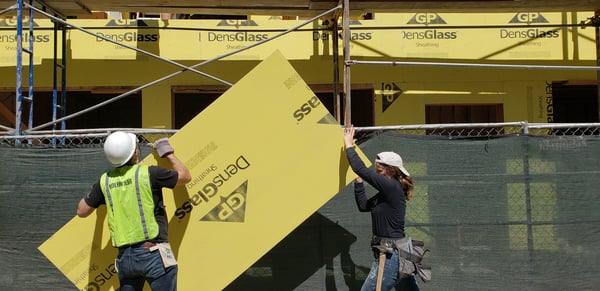 San Jose (Bridge Housing Communities – 1590 Las Plumas, San Jose): We are truly starting to see the Bridge Housing Communities come together. While working closely with the City of San José and HomeFirst, we're excited to have the community with us as well to address the homelessness crisis. We've been working on exterior trim, drywall texturing, spray painting, metal roofs, and framing up floors and walls. In addition to all that, we are also working on electrical, roof systems, vinyl floors, siding, moving cabins, and assorted oddments. The excitement of the community has clearly been shown in the progress we're making on site. Let's keep building!