Since 2018, Habitat for Humanity's charity ride, Cycle of Hope, has given everyone a way to build affordable housing – no hammer required.
Cycle of Hope brings together hundreds of cyclists – along with the runners, walkers, hikers, and more that joined in for last year's virtual ride – to raise awareness and funds for Habitat for Humanity.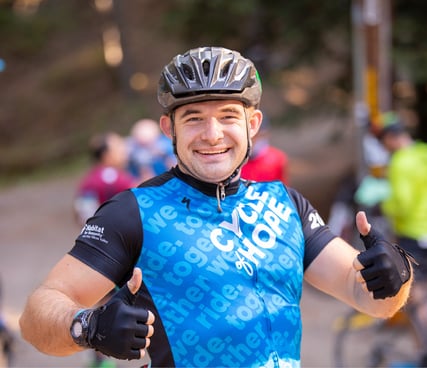 This top charity ride in the Bay Area is back with some new extras for 2021, and premier perks from years past. One of the biggest fan favorites making its return for 2021? Bob, Barbara, and Friends of Cycle of Hope are back with a registration match again this year. This means that just by registering for the ride, you'll earn $100 donated to Habitat for Humanity – a win for affordable housing, and a boost toward earning your first fundraising prize!

Join us for a Century, Metric Century, Moderate, Starter, or Kids' ride in-person – with health and safety modifications in place – or be a part of our virtual experience, where you can cycle one of our standard distances from anywhere or "do it yourself" by setting your own distance goal and meeting it however you want!
No matter how you participate in Cycle of Hope, you'll be impacting the lives of families who partner with Habitat to build better foundations, brighter futures, and stronger communities.
How Cycle of Hope benefits Habitat for Humanity
Your Registration
By simply signing up for Cycle of Hope, you'll already support Habitat. Your registration not only covers the production costs of both the in-person and virtual rides, but a portion directly benefits Habitat's work in our community.

Your Community


Encourage your friends, family, co-workers, neighbors, everyone to ride Cycle of Hope with you! The more riders you refer, the more swag and prizes you can earn. Plus, you'll help spread awareness of Habitat's mission to build homes, communities, and hope!
Your Fundraising
Is your community not able to ride alongside you? No problem! They can still be the wind at your back by supporting your ride – and Habitat – with a donation! Every rider receives a customizable fundraising page when they register for Cycle of Hope, making it easy to share with family and friends. Go beyond the finish line at Cycle of Hope and set a fundraising goal that your friends and family can help you reach!
Your Fundraising – Boosted!
Your fundraising page will be off to a great start thanks to Bob, Barbara, and Friends of Cycle of Hope. This generous group of Cycle of Hope supporters will donate $100 to every registered rider's fundraising page to help you keep up the momentum and go above and beyond for Habitat – much like Bob did when he started Cycle of Hope at age 70!
Who is behind the donation for the registration match?
Meet Bob, Barbara, and Friends of Cycle of Hope.
Bob Frick, a longtime Habitat supporter, was 70 years old (yes, 7-0!) when a student dared him onto a bicycle for a long-distance ride to raise money and awareness for Habitat, in the spirit of the well-known Bike and Build rides. But, in true Bob fashion, he didn't stop there.
Accompanied by his wife, Barbara, as SAG support and joined by friends along the way, Bob embarked on multiple cross-country journeys that began with his back tire in the Pacific and ended with his front tire in the Atlantic. He did his last such odyssey in 2015, at age 77, then set his sights forward to bringing entire communities together in the spirit of his ride.
Watch the documentary inspired by Bob and Barbara's 2015 Cycle of Hope:
So, of all things, why a cycling event to raise money for Habitat?
We know that when most people think of Habitat, they picture Jimmy Carter with a hammer in hand. For Bob, Habitat for Humanity brings to mind, well, cycling.
While riding across the country to raise awareness and funds for Habitat, Bob found himself thinking about how his preparation for the big journey, the many uphill challenges, and the immense sense of accomplishment after a long day's ride resembled the preparation, challenges, and accomplishment experienced by the many Habitat homeowners he's met.
That's how the two journeys – that of a cyclist and that of a Habitat partner family – turned into one ride. That's how we started Cycle of Hope!
Ready join Bob, Barbara, and Friends of Cycle of Hope by riding this year's Cycle of Hope?
Here's how to participate in Cycle of Hope:

Ride In-Person
On October 24, cyclists from across the Bay Area can ride in our live event in Silicon Valley. With health and safety modifications in place, riders will embark on a curated course suited for their experience level and return to a socially-distanced finish line celebration.

Register for one of the following courses and receive a rider's bag full of great swag, on-course SAG support and water stations, food & drinks at the finish line, a finisher's medal, and much more!
Century Ride
Metric Century
Moderate – 32 miles
Starter – 12 miles
Kids' Ride
Click here to register for the In-Person Ride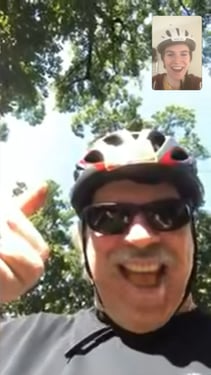 Virtual Ride from Anywhere
From October 1 through 24, Virtual Cyclists can ride our Kids' distance, 12 miles, 32 miles, 62 miles, or 100 miles from anywhere, at any time during the ride window! This is the option for you if you want to cycle one of our established distance goals in one session – but do it on your own time between October 1st – 24th. You can design your own course at one of these distances, or even ride one of the in-person courses on your own time!
Virtual Cyclists can track their rides through our official Virtual Cyclist app, RaceJoy, and submit results through the app. Virtual Cyclists will have their packets and prizes mailed right to their doors and be invited to our Virtual Finish Line Celebration on October 24th!
Click here to sign up as a Virtual Cyclist
Choose How to Participate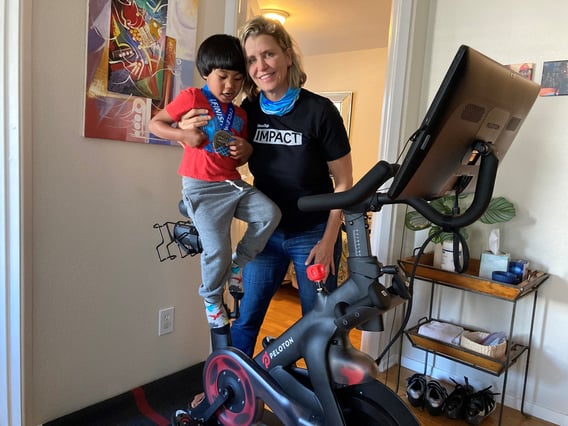 Like the Virtual Ride, our Virtual DIY option is great for participants looking to participate from anywhere at any time between October 1 and 24, but our Virtual DIY-ers will set their own distance goals and meet them however they like! This means you get maximum flexibility and creativity to participate YOUR way in Cycle of Hope.
Maybe you hike 40 miles over one weekend.
Maybe you run a marathon on a single day.
Maybe you make it a relay and get a group of friends to each walk 10 miles until you hit 100 miles.
Maybe you cycle that Century distance, but break it up over a few sessions.
Maybe you complete your ride at home on a stationary trainer.
Maybe live stream yourself hula hooping for an hour straight.
Click here to sign up as a Virtual DIY-er
Fundraise
Maybe a physical challenge isn't your thing. You can still participate in Cycle of Hope as a fundraiser. Access to a personal fundraising coach makes asking for donations easier than you think, and no registration is needed!

Here's how to start a virtual fundraiser for Habitat for Humanity:
Click here to go to HabitatCycleofHope.org
Go to the "Donate" button in the top right-hand corner
Under "Select a fundraiser to donate to a cause," click on the button that says "Become a fundraiser."
You'll see a page that says Become A Fundraiser, which is where you can customize your fundraising page with a personal goal, story, and much more.
Click "Set Up Fundraiser" to complete the setup of your fundraising page!
Be on the lookout for an email with your fundraising page details and a personalized link to share with your family and friends to get started!
Volunteer
As with the construction of a Habitat home, volunteers are the backbone of Habitat's Cycle of Hope. Cycle of Hope volunteers are critical to the event experience, helping us with tasks like:
Rider Packet stuffing and mailing

Pre-Event Packet Pickup

Event Setup

On-Course Water Stations

Course Marshals

Bike and gear check

Food and refreshments

Family activities

Safety and Sanitation

Direction and Hospitality
Interested in volunteering? Email our volunteer team at VolunteerInfo@HabitatEBSV.org.
Cycle of Hope may not be the traditional hard hat and hammer experience many think of when they think of supporting Habitat for Humanity, but the impact is just the same. Connected by our shared belief that everyone deserves a decent place to live, every rider, fundraiser, supporter, sponsor, or volunteer for Cycle of Hope becomes a part of the Habitat family.