"I will never forget that my husband, Jorge, and I were able to buy our home because people from the community came together and partnered with us."
Lourdes spoke these words as she looked out over a crowd of cyclists, ready to push off from the start line at this year's Cycle of Hope on October 23rd. She continued, "And that is what you are doing today, by riding in Cycle of Hope. So, thank you on behalf of my family and all the other families that Habitat can continue to partner with because of you!" With that, Lourdes helped count down the last few seconds before blowing the air horn that signaled the start of the ride.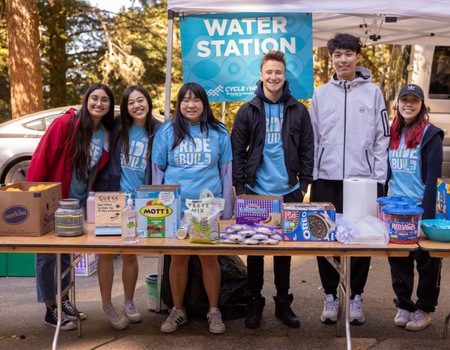 Though her family has owned their Habitat home in Santa Clara for 13 years, Lourdes still vividly remembers the stress of their previous housing situation - and what a difference it made to have an affordable home they could count on. "It's not just stability and security," she said. "Our home is a place of love and joy. My family plays music together, and we love to entertain and to open our home up to our friends and neighbors. It's the place where we laugh and make memories."
Those were the sentiments that propelled cyclists over some tough hills and across gorgeous vistas, on journeys from nine to a hundred miles long. Regardless of their distance - or location, in the case of our nearly-200 Virtual DIY athletes - Cycle of Hopers were in it to make every mile matter for Habitat for Humanity. In addition to their registrations, many went even further, fundraising and recruiting more riders to the cause. All of it, they did to benefit Habitat's work to build more affordable housing in our communities.
They could not have wished for more beautiful conditions in which to do some good. Sunny skies paired with mild temperatures highlighted stunning views that made it clear why so many families are working hard to be able to call the Bay Area home. Plus, they got to come back across the finish line and onto the beautiful campus of Foothill College, with cheering spectators, energetic music, a hot meal, refreshing drinks, and plenty of activities waiting.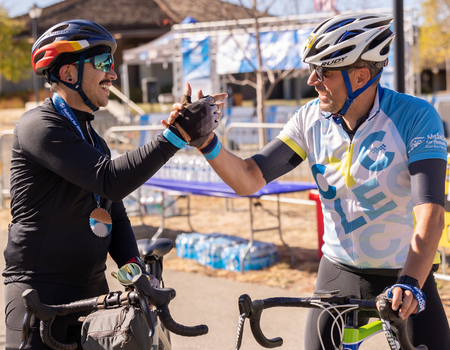 After two fully virtual years, Foothill College was buzzing with energy and excitement from cyclists eager to reconvene in person and ride as a community. Among them was a fantastic cross-section of participants from around the community, including corporate teams, faith communities, and cycling clubs, as well as athletes looking for a satisfying challenge and families seeking a fun way to spend the day together. All told, over 700 athletes participated, supported by over 100 incredible volunteers who gave hundreds of hours.
Vince Salinas summed up the spirit of the day during the afternoon award ceremony. As both Vice President of Home Loans at Patelco Credit Union - Cycle of Hope's five-time Presenting Sponsor - and Chair of Habitat East Bay/Silicon Valley's Board of Directors, Vince shared that Cycle of Hope represents the alignment between "these two organizations I'm so passionate about... We believe in partnering with the people we serve, and we believe in taking care of our communities. Most of all, we believe in people."
Janice Jensen, Habitat East Bay/Silicon Valley's President & CEO, added, "Being part of this community is so important, and we are so grateful for everything you all have done and given to Habitat."
Community truly was the word of the day, from the cheering volunteers crowning cyclists with finisher medals, to the children enjoying the playhouse and games, and of course - to the athletes, donors, and sponsors who united in purpose to help Cycle of Hope raise $271,617 for Habitat so far. That's 90.5% of the way to our $300,000 goal! That finish line is just inches away, and you can help us cross it by giving below.
Browse photos from the 2022 ride to relive some of the day's excitement or take a look at some news coverage of the day from KTVU:
Thank you to our 2022 Cycle of Hope Sponsors!