Got déjà-vu? So do we – for the best possible reason! We're in familiar territory because for the fourth year in a row, we can announce that Patelco Credit Union has signed on as the Presenting Sponsor of Cycle of Hope. Patelco Credit Union's incredible commitment to our annual cycling benefit has been the sustaining force behind this event that not only brings the community together for some exercise and family-friendly fun, but also raises critical funds that support Habitat's work in our communities.
Patelco had the vision to recognize Cycle of Hope's potential – and the commitment to Habitat's mission – to invest as the Presenting Sponsor when the event was an unknown quantity in 2018, our first year. And their continuing sponsorship in 2019 helped us make it an even bigger and better event, quickly known as both a must-ride for serious cyclists and a fun day out for novices and families.

But when the 2020 ride had to switch gears in unprecedented fashion, taking the full Cycle of Hope experience virtual, Patelco was unflagging in their determination to see us through the most challenging of years. And in a year when housing was a literal lifeline, Cycle of Hope athletes were hungry for a safe way to have an impact. Patelco made it possible, and it showed – whether riders were sporting their Patelco fanny packs, keeping clean with a spritz of Patelco hand sanitizer, or tuning up their bikes with the Patelco multi-tool!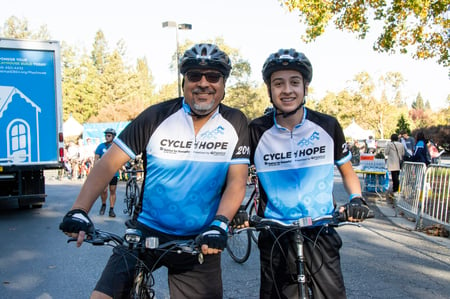 Now, our communities cautiously emerge from the COVID-19 pandemic, and Patelco Credit Union is standing strong with Habitat as we re-imagine Cycle of Hope yet again, this time as a hybrid event that offers the option to gather and ride as a community, cycle at a distance, or customize your experience entirely. We're so grateful for Patelco's stalwart support that gives us fuel in the best of times and wind at our backs in the hardest.
And while we're thankful, we're also not surprised – because this Presenting Sponsorship fits right in with a long legacy of Habitat love from Patelco, demonstrated in more ways than we can count. There's Vince Salinas, who might be Patelco's VP of Home Loans, but in Habitat circles, he's the Vice Chair of our Board of Directors. Or the many times Patelco employees have donned hard hats and hammered away on a Habitat construction site.
Or when Erin Mendez, Patelco's CEO, hefts drywall at our Women's Leadership Build, and still takes a pause to lend her voice to a discussion panel on affordable housing. Or the fact that Patelco funds loans for new Habitat homeowners at a deep discount. Or even providing their financial wellness expertise to lend a hand with our Housing and Financial Counseling Program.
We know that Patelco Credit Union has an 85-year history here in the Bay Area, and a long-established ethos of giving back. We're proud to be a part of that tradition, and to share the Cycle of Hope tradition with our partners at Patelco. Want to come along for the ride? Register now for the best pricing at HabitatCycleOfHope.org.