Volunteers are sharing the love with Habitat this February! See what their love is building this month!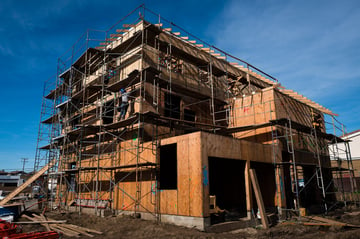 Fremont, Central Commons (30 New Homes): Framing is in its final stages! Volunteers are working on exterior shear walls and sheathing on the lower roofs. This 30-home development is moving along, and we couldn't be more excited!
Martinez, Muir Ridge (20 New Homes): Next time you join us on site at this 20-home development in Martinez, make sure to say hello to Shannon, our newest AmeriCorps service member! Shannon and our other crew leaders are teaching volunteers how to put up siding, install window trim, and much more this month! Join the team by volunteering today!
Home Preservation: Making critical repairs to keep homeowners safe and healthy in their homes is one of many ways that volunteers are helping combat the affordable housing crisis. This month, volunteers are working on tasks such as installing new flooring and grab bars, repairing windows and roofs, and much more!
ReStore: Calling all DIYers! We're launching a new DIY workshop series at our Oakland ReStore on March 3rd! Click here for more information!