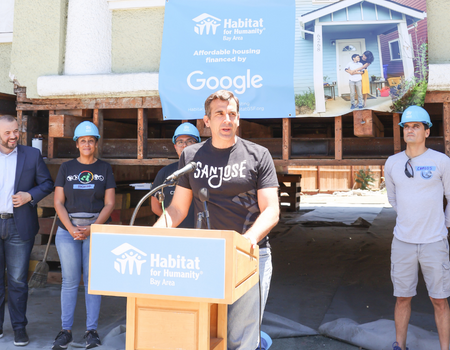 It may have looked like just an afternoon of painting – a couple dozen Google volunteers wielding paintbrushes on a hot June day, beautifying a fence at Fourth and Reed Streets in San José. What it represented, though, is a lot bigger than a fresh coat of paint. In fact, it was a hands-on way to kick off a $10 million loan facility that Google is providing to Habitat for Humanity Bay Area – made up of Habitat East Bay/Silicon Valley and our neighbors at Habitat Greater San Francisco. The loan is part of Google's $1 billion housing commitment, whose goal is to catalyze 20,000 homes in the Bay Area.
The Googlers were joined by San José Mayor Sam Liccardo and the district's Councilmember Raul Peralez, to do something concrete at this first of four Habitat developments to make use of the loan facility. And this new coat of paint is the beginning of a volunteer mobilization to offer new life to this century-old architectural treasure, which a collaboration including the Preservation Action Council, KT Urban and Scape, and the City of San José helped us save from the wrecking ball last year.
"Habitat and Google's vital collaboration helps advance affordable housing solutions that will bring the opportunity of homeownership to low-income San José residents," said San José Mayor Sam Liccardo. "Through this partnership, not only will we see the preservation of historic buildings, but several families can continue to call our city home."
This is just the beginning of Google's investment in making San José a place that everyone can afford to call home.
"I'm grateful to Habitat for Humanity, the Preservation Action Council, and Google for coming together to provide the game-changing opportunity of home ownership to low-income families," said Councilmember Raul Peralez. "This is just the beginning of Google's investment in making San José a place that everyone can afford to call home."
The financing partnership with Google means that this day of volunteerism will be followed by so many more as Habitat can move more projects through our pipelines.
Google's housing commitment aims to increase housing opportunities throughout the region through land, investments, and grants. By investing in organizations like Habitat Bay Area, Google hopes to help fast-track production.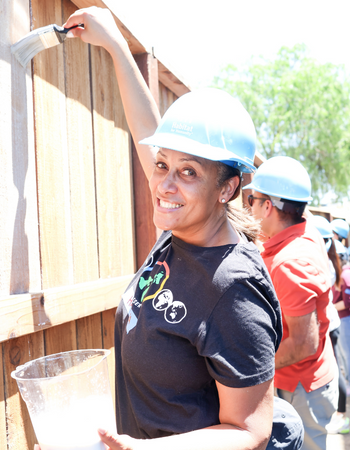 "The purpose of our $250 million investment fund is to increase the supply of housing across the Bay Area," said Javier González, Google's Head of Local Government Affairs and Public Policy, California. For Mr. González, launching Google's Habitat partnership at Fourth and Reed Streets hits close to home, as he grew up in the neighborhood. "We're grateful for opportunities to work with organizations, like Habitat, to help fill gaps in the market to accelerate the creation or preservation of affordable housing developments."
"I'm excited to be here with the City and our Habitat counterparts across the Bay to celebrate this $10 million region-wide financing partnership with Google," said Janice Jensen, President and CEO of Habitat East Bay/Silicon Valley. "This partnership means building more, and building it sooner. It facilitates our housing pipeline so that we can do the work of making homeownership a possibility for more families."
"Affordable project financing is essential for affordable home building to happen," added Maureen Sedonaen, CEO of Habitat Greater San Francisco. "That's why, when community partners like Google are able to come to the table – and bring capital that can be accessed and leveraged to create 100% affordable housing – it is a win-win-win."
The Googlers' coat of paint will soon be followed by a lot more work, as we move to complete a thorough renovation of the building while retaining its unique historical character – before selling the four units through affordable mortgages to families earning low incomes. Google's financing will go on to jumpstart three more Habitat developments. Thank you, Google, for helping Habitat increase access to affordable homeownership across the Bay Area!