Right now, as we hammer away at our work building housing opportunities here at home, Habitat for Humanity affiliates from across the country are working to build those opportunities on the national stage.
Every year, the Habitat for Humanity family converges in Washington, D.C. to raise its voice for affordable housing. Hundreds of Habitat staff, homeowners, volunteers, and partners from around the country gather for Habitat on the Hill -- getting up close and personal with influential lawmakers who can shape the policies that help us build homes, communities, and hope.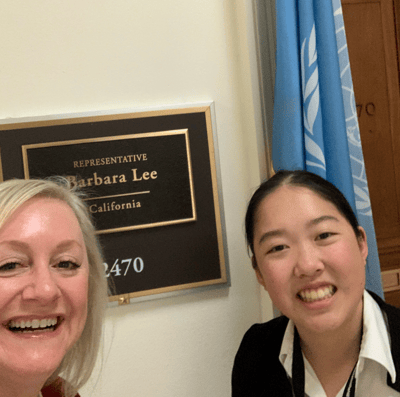 Our own President & CEO, Janice Jensen, is in D.C. with Anna Ou, the Chair of Advocacy at UC Berkeley's Habitat campus chapter to meet with policymakers to solidify the nationwide need for federal support in addressing the home affordability crisis.
At the national level, Janice and Anna are joining Habitat to advocate for policies and programs that advance homeownership opportunities for families with limited incomes, promote access to a range of affordable housing options, encourage financial stability for people and families, and build healthy and vibrant communities.
Support at the federal level of the following programs is crucial to our work at Habitat nationwide:
HOME Investment Partnerships Programs- One of the key programs that Habitat relies on in our work around the country is the HOME Investment Partnerships Program, administered through the US Department of Housing and Urban Development (HUD). Since its inception in 1992, this federal block grant program has funded the building and preservation of over 1.2 million homes! We count on HOME funding on a national level, and here at the local level as well.
AmeriCorps Program - Another critical program -- and one that many of you have been touched by firsthand -- is the AmeriCorps Program. Whether you've volunteered under the guidance of one of our stellar AmeriCorps crew leaders on site, or worked with one of our many AmeriCorps in the office over the years, you know how heavily we depend on the contributions of these service members. They are just a few of the over 10,000 AmeriCorps members who have served with Habitat.
SHOP- Another grant program through HUD -- the Self-Help Opportunity Program (SHOP) -- has been a key source of funding to allow Habitat's around the country to continue to use the self –help model to provide low-income homeownership opportunities for families. Other initiatives, like the USDA 502 Direct Loan Program, provide important support for our rural affiliates' work in their communities.
Habitat needs Congress to support programs like these in order to continue building more in our communities. While Janice, Anna, and other Habitat advocates are bringing these issues to lawmakers in Washington, you can do something right where you are.
To secure these programs, we must take action now. Here's how.