At Habitat for Humanity, our mission is to bring people together to build homes, community, and hope. This mission came to fruition on the warm Sunday morning of October 1 at our Muir Ridge development in Martinez, when the members of Neighbor to Neighbor built side by side to benefit Bay Area affordable housing.
Temple Isaiah, Lafayette-Orinda Presbyterian Church (LOPC), and San Ramon Valley Islamic Center (SRVIC) have been working together for several years to build friendships, understanding, and connections among their congregations. Together, this partnership forms Neighbor to Neighbor, a program to educate local Muslims, Christians, and Jews about each other's faith traditions.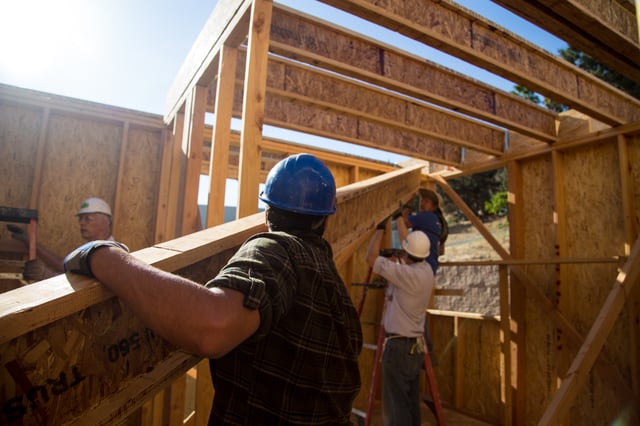 Lifting and hammering together, members of all three congregations worked with Habitat staff to frame walls at Muir Ridge. Participants spent the build day learning about each other's skills and strengths, and forming new bonds of understanding and cooperation.
At lunch, members reflected on their reasons for taking part in the build, and on the meaning of putting their faith into action. Many commented that building relationships in this way sharply contrasts with the division we often see in current events. On an individual level, they discussed how we are all alike in our love of a job well done, the importance of service to our faith traditions, and shared values like family.
Seeing this unity from our partners is truly inspiring. We are honored to host volunteers –regardless of faith tradition – from all backgrounds. The Habitat construction site is a place of friendship and community where all are welcomed!
If you are interested in joining together with partners like Neighbors to Neighbors, let us know!