Fall has arrived and we're getting ready for the winter season. All hands are on deck! See what volunteers are up to on construction sites, home repairs, and at the ReStores!
Fremont, Central Commons (30 New Homes):This site is bursting with volunteer love! On September 15th and 16th, we kicked off construction with our 2017 Build-A-Thon. Thanks to Build-A-Thon's volunteers, we got second story walls framed, a fence built, and the start of a concrete wall constructed. Since then, the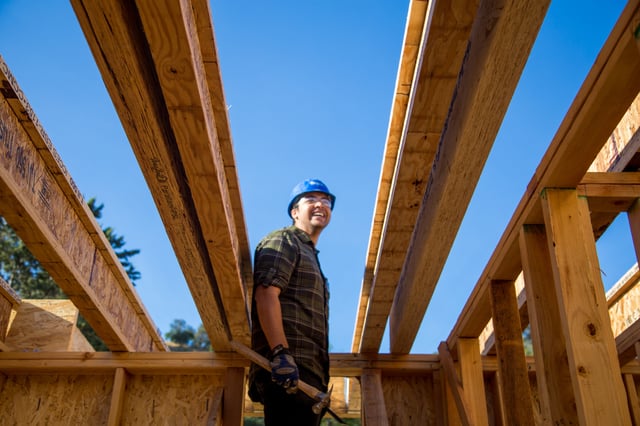 enthusiasm from volunteers hasn't stopped, as we move on to framing third story walls!
Martinez, Muir Ridge (20 New Homes): The last four homes of this 20-home development are really starting to take shape, literally! Framing is almost complete and ready for roof trusses. Members from different faith congregations around the Bay Area started this month with a special Sunday volunteer day, coming together for the Neighbor to Neighbor build. This type of unity is a great showcase of our mission to bring people together to build homes, community, and hope!
Home Preservation: Volunteers have been busy between home repair projects in Hayward and San Jose. We were honored to have volunteers from Bank of America join our Home Preservation team as part of their annual Fix-A-Thon! Bank of America employees volunteered their time for two days to help us make critical repairs for senior homeowners. Thank you for including us in your Global Build Week!
ReStore: Did you know that our Oakland ReStore has expanded? More space means more sales, and more sales means building more homes. Volunteers are helping to set up the new space, and shoppers are already taking advantage of the new deals. If you'd like some retail experience, check out our ReStore's volunteer opportunities! Whether you're a volunteer or a bargain-hunter, come see the newly-expanded space!