Hello from El Salvador!
July 18, 2018 Volunteer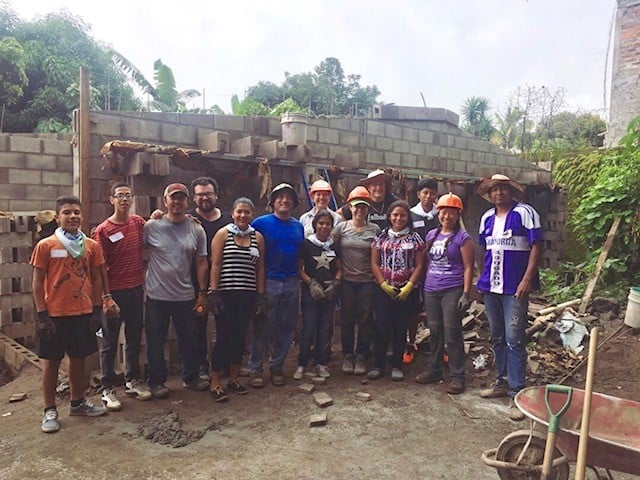 We landed on a stripe of gray on green, San Salvador stretching lush and verdant in every direction. June is well into the wet season in El Salvador, and the earth responds in gorgeous bursts of color. I hadn't stepped off the plane, but already I felt enveloped in welcome, here in El Salvador, where I'd be a guest for the next eight days as a Global Village volunteer.
By participating in Global Village, I could take my passion for Habitat abroad. I have worked on many Habitat homes in the Bay Area, gotten to know many Habitat families. I'd always been aware of Habitat East Bay/Silicon Valley's Global Investment Program, that we help support the work of some of our sister Habitat affiliates around the world. Global Village was my chance to get on the ground, to invest more than my ideals in our work worldwide. And as I considered taking my first Global Village trip, our longstanding partnership with the El Salvador affiliate made the choice simple.
Habitat East Bay/Silicon Valley has invested financially in Hábitat para la Humanidad El Salvador since 2006, and also returned to the same region of the Usulután Department in the southeastern part of the country with teams of Global Village volunteers to build homes year after year. This year we would revisit the region.
Our team wound our way up the side of Volcán Tecapa to the cooler climate of Alegría, the mountain town where we'd be staying. We were heartily welcomed by Don Roberto, whose hostel would be our home for the week. After a hot breakfast at the hostel, we ventured down the mountain a few miles to reach the construction site in Santiago de María, where we were put to work in short order.
For me, accustomed to years of wood-frame construction and the assistance of power tools, I was in for an entirely different way of building. If I was hoping to do something concrete, El Salvador did not disappoint. I was utterly surrounded by concrete. We were building a three-bedroom home from concrete blocks. We got well acquainted with shovels and buckets, trowels and hoes, the primary tools of our week's trade. The mortar, the grout, even the foot-deep floor of the house – were bucket upon bucket of sand or gravel, bags of cement, pails of water. We volunteers were the power tools of the operation, the extra bit of muscle needed to speed the job along.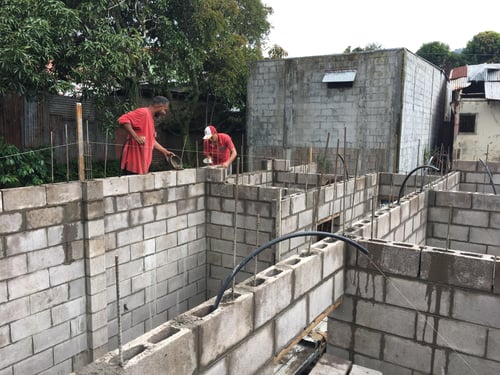 There was plenty about my week on site that felt new. But one thing felt surprisingly familiar, the element at the very heart of every single Habitat for Humanity story – the family. The future residents of these three bedrooms we were building lived right there on the land, their current house built largely from corrugated metal sheeting. Morena, her daughter Sara, and her granddaughter, Emely, looked out as we worked, occasionally visiting with us or bringing refreshments to us. Four-year-old Emely wasn't shy, and though my Spanish was barely functional and mostly limited to masonry terms, it didn't stop her from striking up animated games of make-believe with me. She – and her puppy, Chispa – loved openheartedly, arms wide to be picked up, an easy smile and a shout in greeting.
We didn't share a language, and many of our customs differed. Housing in the Bay Area and housing in El Salvador are two very different animals, distinct crises. But still, Morena, Sara, and Emely felt familiar to me.
"The comfort that we are going to have is something that we don't have in the current house," Morena and Sara wrote to me. "Also, the fact that we are investing in a home that is going to be ours, instead of paying every month for something that doesn't belong to us." And regarding the littlest member of the family, they said, "Lots of things are going to change. The environment is going to be completely different. Not worrying about the leaking in the house in the rainy season, when the water makes the floor very slippery and the humidity attracts flies, so it is easy for Emely to get sick or fall and hurt herself when she is playing and running around."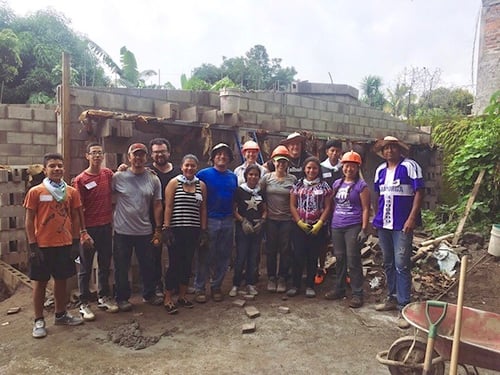 It brought to mind the stories of so many Habitat families I've known, closer to home. Families who were striving to invest in their futures, rather than just make it to the end of the month. Children whose asthma was kicked up by the mold spreading through their walls. Parents who just wanted their kids to have a safe place to play. People for whom homeownership was an opportunity to build stronger, healthier futures. And in all these stories, it was the Habitat community coming together in partnership with these families, bringing that opportunity within reach. With Morena, Sara, and Emely, it was no different.
"The experience of having volunteers was muy bonita," Morena and Sara say. "It was very meaningful to see many people caring about us, working so hard in the construction. We remember and cherish every moment… your kindness with us and especially with Emely was priceless, and coming every day so excited to work and a lot of energy and joy, really moved our hearts."
And in this way, I feel as if we do indeed share a language. Whether I'm working with Habitat or Hábitat, the heart of the work is in la humanidad. The humanity is the thing in what we do, in this joining together of hearts and hands, to build a world where everyone has a decent place to live.