Last year, Houzz, a home remodeling and design platform, and The American Institute of Architects teamed up to launch PlayHouzz 2016, a charitable Playhouse design contest and showcase. Houzz and the AIA chose five designs among 500 submissions that inspired a sense of adventure and imaginative play in all of us. Houzz then partnered with Families Forward Philadelphia, Dallas CASA, Habitat Truckee Meadows, Habitat Greater Worcester, and us here at Habitat East Bay/Silicon Valley to build the lucky winning Playhouse designs.
Construction of the "Love and Peace" Playhouse design was a team effort at our Oakland Playhouse Workshop. Habitat Playhouse staff and a group of dedicated volunteers completed the circular playhouse just in time for the new year.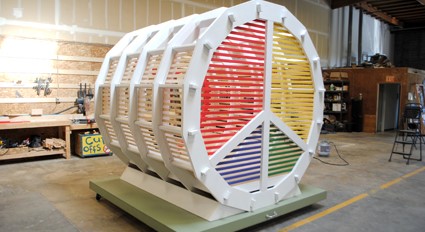 "We chose the Love and Peace Playhouse design because we loved the shape, colors, and message," says Gus Cancro, Assistant Playhouse Program Manager. "It was an incredible experience, and I'm so grateful to have had the assistance from such dedicated and talented volunteers."
This is unlike any other Playhouse our team has built before. It presented odd challenges like getting the many angles and pieces to line up, but our team knocked it out of the park! The heart shaped entry and rounded in
terior welcomes children into an environment wrapped in love – much like our real-life Habitat homes!
Click to see the renderings for the Love and Peace Playhouse!
"There are many beautiful reasons to be happy, and for every child, happiness is when they can be their own way in the most comforting space," says Mashrur Dewan, Designer/Architect. "That space is inside Love & Peace, a three dimensional contemporary Playhouse design that focuses to provide children with the most fun-filled experience yet not limiting them from pathways for thinking, creativity, and flexibility. The concept behind this exquisite barrel-shaped Playhouse is to bring togetherness and diversity among all children by jam-packing it with love, peace, and harmony."
A big thank you to Houzz and the American Institute of Architects for inviting us to be part of this creative, compassionate vision! The completed Playhouse will benefit Habitat's future programs.