Habitat for Humanity ReStores are more than home improvement stores and donation centers for gently used furniture, appliances, home goods, and building materials. Habitat ReStores turn the sale of their high-quality, constantly changing inventory into opportunities for families to achieve strength, stability, and self-reliance through homeownership, housing and financial counseling, and home repairs.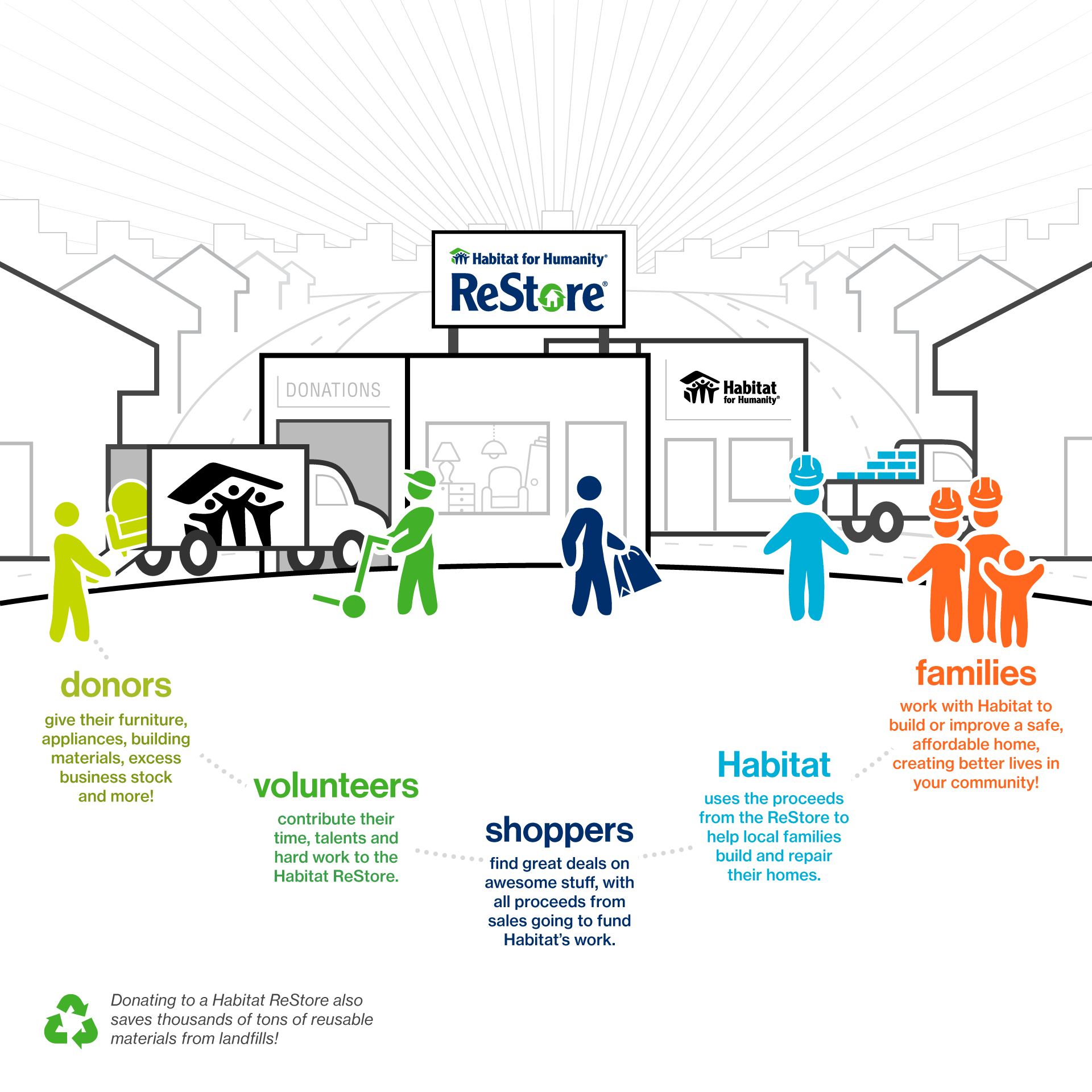 Because of generous donations from individuals, companies, and retailers, ReStore is able to sell new or like-new products for a fraction of the retail price – diverting items from landfills and raising money for Habitat for Humanity.

Last year alone, ReStore diverted over 5,000 tons of waste from landfills and 100% of profits from sales directly benefited our construction projects. And by supporting ReStore, you can be a part of the solution to overflowing landfills and the affordable housing crisis.
How to support ReStore
Here in the Bay Area, we have three ReStore Locations:
ReStore Oakland
9235 San Leandro St, Oakland
ReStore Concord
1500 Monument Blvd, Concord
ReStore San Jose
1608 Las Plumas Ave, San Jose
At each location, you can support ReStore by dropping off or scheduling a donation pickup, shopping, and/or volunteering.
Donate
ReStore offers a convenient, flexible, and altruistic way to donate. Drop items off or schedule a pickup online, over the phone, or by email. Every donation supports Habitat for Humanity and our work to create more housing opportunities in the Bay Area through building, preservation, and education.
What are the donation criteria for Habitat's ReStore?
Our ReStores pride themselves on providing customers with quality products at good prices. ReStore Oakland, Concord, and San Jose all accept donations of furniture, appliances, tools and materials, lighting, cabinets, doors and windows, plumbing, flooring, and more. ReStore is unable to accept items that are damaged, broken, not working, missing parts, rusted, rotted, or splintered.
Click here to see more information on our donation criteria.
Shop
Bargain hunters love finding a good deal at the ReStore! ReStore offers 25%-75% discounts on a wide variety of items, from floor model appliances donated by businesses to antiques donated by our community.
Click here to see what's in store.
Volunteer
Volunteers working behind the scenes or on the floor with customers are the heart of our ReStore. Without them, we'd be lost! Volunteering at ReStore can be a great team-building experience for groups of all sizes. So, come on your own, or bring a friend, bring your team, or even bring your entire company to build bonds while helping Habitat build homes.
Volunteer opportunities in Oakland, San Jose, and Concord include:
Assisting customers
Stocking shelves
Creating displays
Accepting donations
Click here to schedule your volunteer day with Habitat's ReStore.
However you get involved at your neighborhood ReStore, you'll feel good knowing your donation, time volunteering, or purchase in-store directly benefits our efforts to build more homes, communities, and hope here in the Bay Area.