Fremont (Central Commons – 30 new homes, 2nd phase): Our Site Superintendent, Ben Brenner, sums up the work keeping us busy as "the three P's" – porches, painting, and a punchlist of smaller items to complete. A special thank you to volunteers as well as Habitat staff who came out this past month to help get the last 19 homes wrapped up. The finish line is closer than you think – as in September 17th close! Click here to RSVP for our VIRTUAL Dedication and celebrate the completion of this 30-home development!

San Jose (Bridge Housing Communities Production Yard – 1590 Las Plumas): Here's what we've been building at our Bridge Housing Communities production yard: flooring, baseboard, electrical, standing walls, rafters, roof decks, housewrap, windows, siding, insulation, drywall, exterior trim, accent siding, exterior painting, and rough electrical. Volunteers have been hard at work to get this checklist done so we can begin moving these cabins to their home at the Bridge Housing Community on Felipe Ave.
San Jose (Bridge Housing Community Site – 928 Felipe Avenue): A strong foundation is what we've been focusing on at our Felipe Avenue site! To get there, we've been working hard on foundation framing and pre-cutting for boardwalks to be able to get the cabins in place and ready to serve our unhoused neighbors.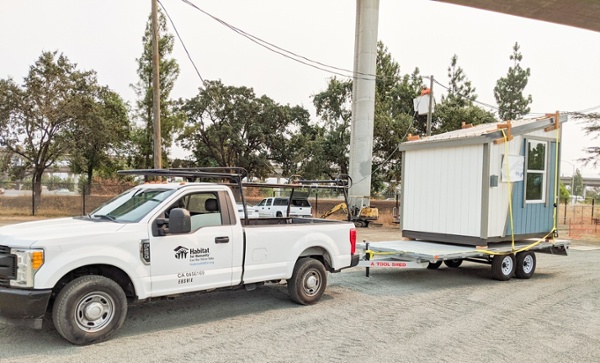 TOOL DONATIONS NEEDED!
In San Jose, Habitat crew and volunteers have been hard at work finishing 40 cabins at our production site on Las Plumas Ave for our next Bridge Housing Community. Unfortunately, that job just became harder, following a recent burglary at the production site that cost us $11,200 worth of vital tools.
If you'd like to help us recover from this loss, you can donate new or used tools from the list below, or make a financial gift. However you contribute, your support will help provide our unhoused neighbors with shelter, security, and comfort now, at a time when health and safety depend on housing.
Click here to give a financial gift, or see the below list for our tool needs: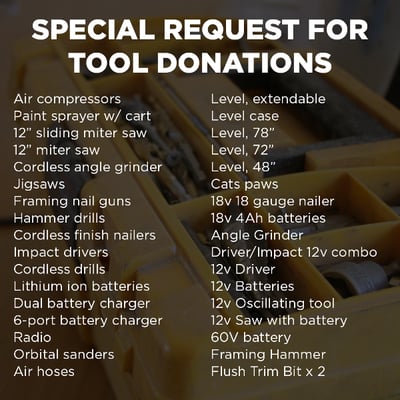 All new and used tool donations can be sent to or dropped off at:
Habitat for Humanity East Bay/Silicon Valley
Attn: Jared Slaybaugh
1590 Las Plumas Ave.
San Jose, CA 95133
*Prior to making a tool donation, please email Jared at JSlaybaugh@HabitatEBSV.org to coordinate a time for delivery/drop-off.