The heat wave seems like it's here to stay, but construction keeps moving! See what's new on the construction site!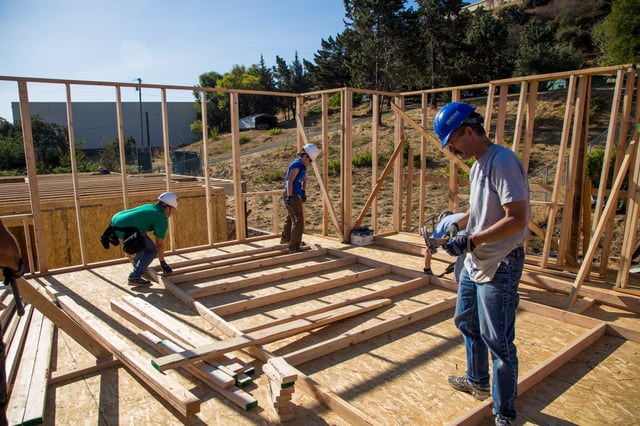 Fremont, Central Commons (30 New Homes):
This neighborhood of 30 new homes is our first-ever condo-style development.
Loaded with awesome features
, this unique building model will provide even more families stability through homeownership. Buildings one and two are first to be built, and volunteers have been busy getting foundations ready. This weekend, volunteers from all over the country will come together to raise the site's first walls at the 2017 Build-A-Thon! Stay tuned for updates!
Martinez, Muir Ridge (20 New Homes): Volunteers continue framing and raising walls for the final four homes at Muir Ridge! The first floors on all four homes are fully framed and the homes' second floors are starting to come to life!
Home Repair: Volunteers have been working across Hayward, San Jose, and Fremont to keep homeowners safe and comfortable in their homes. By making simple updates like adding grab bars in the bathrooms, installing a new porch, and applying a fresh coat of paint, our Home Repair program is preserving the affordable housing market by making sure homeowners are able to stay in their homes for years to come.
ReStore: Our stores are busy helping students return to school in style with a huge 20% off sale, now through September 16th! See how the ReStore can help turn any dorm room from small and static to spacious and completely personalized.