Much like our Cycle of Hope benefit cycling event, the journey to homeownership is filled with milestones, joy, and an eagerness to cross that finish line.
Now, thanks to more than 730 cyclists and countless volunteers and supporters, more Bay Area families are able to reach their ultimate finish line – achieving strength, stability, and self-reliance through homeownership. We are so thankful for our cycling community who came together to ride and support our vision of a world where everyone has a decent place to live.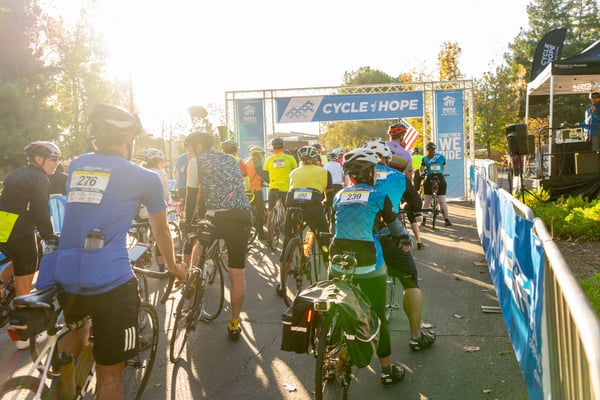 But Cycle of Hope is about more than a ride. It's about people, riders of all skill levels, coming together to raise support and awareness for Habitat for Humanity's mission to build homes, communities, and hope. Together, we've raised more than $250,000 and counting! A special thank you to those riders who went above and beyond and fundraised to support Habitat's work here in the Bay Area.

Thank you, top fundraisers!
Bob Frick
Bob Nelson
The Leftovers
Board Riders
Thank you, top recruiting teams!
Team Wash U
Team Patelco
Check out the fun and relive the ride by connecting with Cycle of Hope on social media! Click here for Cycle of Hope's Flickr page for finisher photos, shots from the course, and photos from the start and finish line celebrations, and share your favorites using the hashtag #TogetherWeRide.
Thank you again for helping to make the 2019 Cycle of Hope, Presented by Patelco Credit Union, an incredible success! We hope to see you all at the start line again in 2020.
Sign up for information on riding, fundraising, volunteering, and sponsoring the 2020 ride.