At Habitat, we believe that everyone can make a difference in the affordable housing crisis – whatever inspires us to the cause. It is our calling to serve others that unites us.
This past Sunday was all about that unity. At the South Bay Islamic Association (SBIA) in San José, seven faith communities gathered for an interfaith fundraising event that built so much more than the seven playhouses they donated at the end of the day. They built connections that bridged faith to faith, family to family, person to person – and united them in the common purpose of service. It was a day buzzing with activity, conversation, good food, prayer, and the simple act of giving.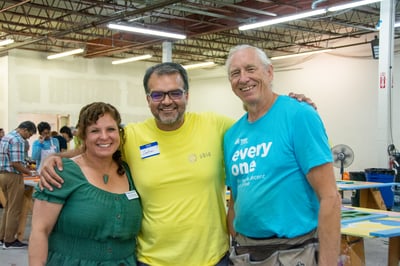 The first Unity Playhouse Build began with a greeting from Karen Hernandez, Habitat's Faith and Community Partnerships Manager, and some words of welcome from Fahad and Zeeshan, board members for our gracious hosts and partners, the SBIA. This was followed by a recitation from the Qur'an and an interfaith prayer, in which everyone joined for a moment's reflection and invocation. The day's tone was set from the start with the prayer, which reminded us, "We come from different traditions, yet we are all one spirit, gathered today to make a difference in the many lives in the Bay Area."
Then, it was on to some pint-sized construction as volunteers organized to build seven playhouses. It was a community effort, with volunteers representing SBIA, Los Altos United Methodist Church, Campbell Church of Christ, ECHO Bangladeshi Community of Fremont, Congregation Kol Emeth, Congregation Beth Am, and the Muslim Community of the East Bay. As volunteers drilled and painted and hammered, they also built new friendships.
Eve, from Congregation Kol Emeth, said, "It's very deeply rooted in Jewish tradition to give back to the community, and I know it's so central to Islam and Christianity. So, it's awesome that we can be here with faith partners representing other religions."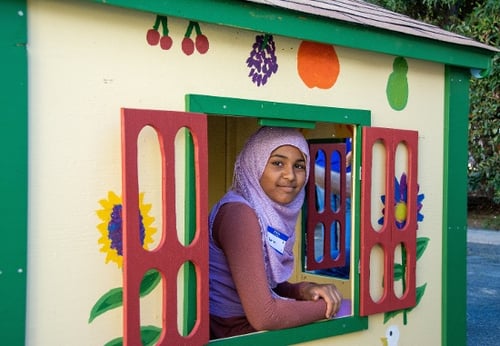 The highlight of the day, though, was the moment all the volunteers looked forward to – assembling all the playhouses and seeing the looks on some very happy children's faces as they saw their new play spaces for the first time. Two playhouses from the Unity Build were donated to the Family Violence Center/YWCA of Silicon Valley, one to Family Supportive Housing, and four to the families of first responders in the area.
"It was magical. What a special day," a volunteer commented after watching not only the kids receiving their playhouses, but the children who helped build them, run around the tiny village that had been assembled.
The conversation continued over dinner and a tour of the SBIA and the mosque. "The South Bay Islamic Association's willingness to partner with Habitat EBSV has made this event even more special. I want to give a special thank you to SBIA for making this happen," Karen said. "We started something good today – conversations, bridge building, and stronger relationships, all while building community too."
Click here to see photos from the Unity Build!