Few occasions demonstrate the impact of our work more concretely than a Home Dedication. On Saturday, May 20th, we welcomed home our six newest homeowners to the second phase of our Muir Ridge neighborhood in Martinez. With the sun shining brightly overhead, a community of Habitat staff and board, volunteers, donors, and supporters came together to bear witness as the Alvarez-Mena, Aremu-Bello, Eleazar, Gizaw, Johnson, and Ochoa families accepted the ceremonial hammers, books of faith, and keys that mark the start of their lives as Habitat homeowners.
"It's only right that a community has come together to celebrate this day," said Abdul Aremu-Bello, speaking at the Dedication on behalf of his family and his new neighbors. "I am standing here today because this community has helped my family realize our dream."
Indeed, members from all corners of the Habitat family were on hand to celebrate, from longtime volunteers to congregants from the faith community, staff and board of past and present, and representatives from some of our most committed supporters. City of Martinez Mayor, Rob Schroder, was on hand to welcome the new homeowners on behalf of the city, along with delegates from the community partners whose support has helped to bring his development to fruition, including Contra Costa County the the California Department of Housing and Community Development, The Dean & Margaret Lesher Foundation, Wells Fargo, Grifols, Simpson Strong-Tie, Pacific Gas & Electric Co., Federal Home Loan Bank of San Francisco, Heritage Bank of Commerce, Patelco Credity Union, and the Helen L. Knopp Trust.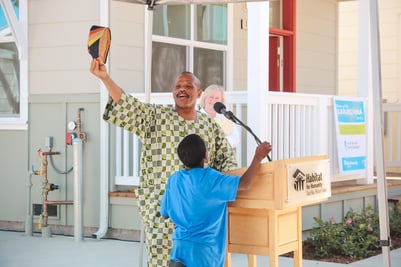 When Abdul and his family came to this country eight years ago from Ghana, he said he had his eye on "the American Dream — really, a world dream — to own my own home," but as they struggled to meet the high cost of living here in the Bay Area, he said, "I almost gave it up, until I learned about Habitat."
The Aremu-Bello family's journey echoes the journey of all our homeowners. Families that have worked hard in the face of difficult circumstances, struggled through insecurity and instability, while reaching for the hand up they need to realize their dreams.
Among our six newest homeowners, there are those who have journeyed through loss, homelessness, health challenges, and the anxiety of living in high-crime environments. They now share a common bond not only as neighbors, but as families who have empowered themselves as homeowners, and who now look with hope to a future in which their children play together outside, in a safe, peaceful neighborhood, while they build a legacy for generations to come.
Home Dedications remind us that the families, and the communities we serve, are at the core of our mission. These six new homes have a concrete impact on the community and — as "green" homes — on the planet. Most of all, they make a true and lasting difference in the lives of our partner families. "Thank you," Abdul ended his speech simply. "Thank you, thank you, thank you."