Last year, riders, volunteers, and community supporters gathered by the hundreds at the start line of Cycle of Hope, a charity cycling event benefiting Habitat for Humanity East Bay/Silicon Valley. Together, this Bay Area cycling community rode to raise critical funds that help Habitat for Humanity work toward the ultimate finish line – a world where everyone has a decent place to live.
This year's ride is ON – but it will look a little different!
Back in March, the Cycle of Hope team was in high gear, planning an even bigger and better 2020 ride – we were reading your feedback from last year's ride, drafting routes, and designing awesome new swag. Now, as our communities face an unprecedented health crisis, your health and safety are our top priorities. So, we've decided to keep our distance this year, and bring our ride to you – with Cycle of Hope: Ride from Home!
What does "Ride from Home" mean? Glad you asked!
When the pandemic shifted us to a "new normal," we faced the decision to cancel or alter this fall's event. After much thought and deliberation, we decided to move forward with Cycle of Hope in a new format! As we shelter in place, we know that setting fitness goals and finding safe ways to get outside are more important than ever. And this health crisis has made it all that much clearer how critical it is to have access to secure, affordable housing – at a time like this, it can literally mean life and death. For these reasons, we felt it was important to gather – in spirit and purpose, though not in person – to ride together.
Cycle of Hope: Ride from Home will still provide you the premier cycling event you've come to expect from Cycle of Hope, but now it's at your fingertips.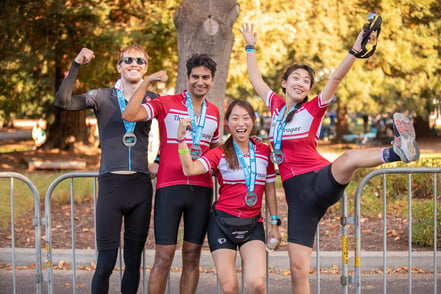 Ride from Home is a selection of curated routes that are available to registered riders through our ride app partner, RaceJoy. With different routes for every skill level, starting in both the East Bay and Silicon Valley, and even an option to ride from anywhere (Hello couch to Century ride!), Cycle of Hope 2020 gives participants maximum flexibility to complete their ride on their own time and in their own way!
On top of flexible ride options, when you register for Cycle of Hope: Ride from Home, you get:
The "in-person ride" experience thanks to our ride app partner RaceJoy and our forthcoming Online Community portal! Access training tips, connect with fellow riders, and celebrate together with a virtual finish line celebration to remember. Come ride day, power up RaceJoy, select your route, track your ride, get turn-by-turn directions, and hear from your own personal cheer squad along the way!
Awesome swag like a finisher's medal, t-shirt, and gifts from our sponsors. Fundraise or refer your friends and family and earn even more swag, like an exclusive 2020 Cycle of Hope neck gaiter or jersey, and more!
Access to our Cycle of Hope rider community! Join hundreds of other riders and fundraisers in our Strava Club and Online Community portal as we work together to train, fundraise, and ride in support of Habitat for Humanity! Speaking of Habitat for Humanity, you also get…
All those feel-good vibes when you register for Cycle of Hope, because a portion of your registration fee directly benefits Habitat's mission to build homes, communities, and hope across the Bay Area. Want to get registered for Cycle of Hope: Ride from Home? It's easy! Here are 5 simple steps to get riding: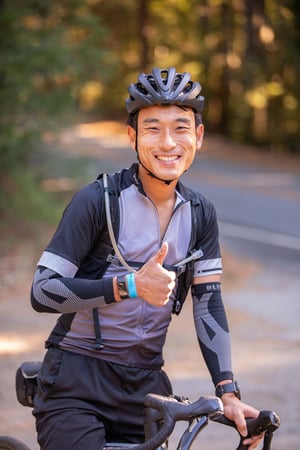 Step 1 – Choose Your Course
Choose from 5 custom courses for all skill levels in both the Silicon Valley and East Bay, or set your own course and ride from anywhere.
Step 2 – Register & Share
Once you've chosen your course, it's time to register! Sign up to ride solo or as a team at a safe distance. Then, invite friends and family to ride with you or join your team to get exclusive referral perks.
Step 3 – Fundraise
Claim your fundraising page and unlock access to a personal fundraising coach! While fundraising is not required, it's easier than you think. And, you can start earning incentives when you've raised just $100, so it's a snap to rack up extra perks while you support a great cause.
Step 4 – Get Your Swag
With both curbside packet pick-up and mail-to-you options, getting your premium swag bag is safe and easy.
Step 5 – Pick a Day & Ride!
Pick a day to ride your course anytime between Saturday, October 10, and Sunday, October 25.