In May, we had a chance to highlight the role of women in our work to create positive change in our communities. On May 5th, our Women's Leadership Build made critical home repairs in a North San Jose mobile home community, kicking off the 10th annual National Women Build Week — a week of empowering women as change makers in our communities.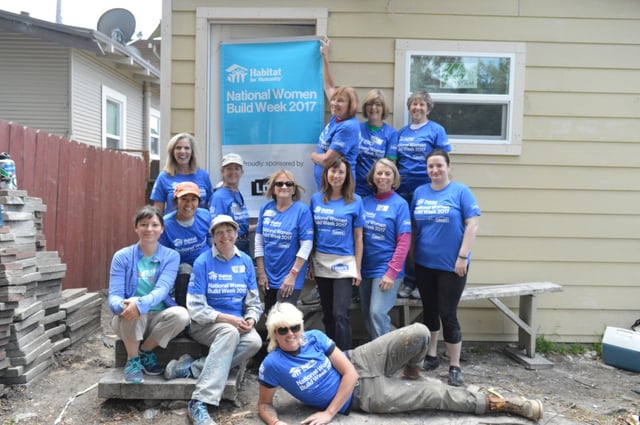 The Women's Leadership Build brought together 60 women, including local executives of Cisco, Xilinx, Ellie Mae, Patelco, Ernst & Young, Future State, OSIsoft, and Bank of America to make much-needed repairs on five homes, work that made a concrete difference in the health and safety of their homeowners.
Homeowners like the Gartons, who have owned their home for 37 years, are grateful for the work these women performed; Alden Garton, a World War II veteran who relies on a cane and wheelchair for mobility, had difficulty with basic, everyday tasks before the volunteers addressed the Garton home's uneven flooring and lack of a chairlift.
The Knox family thanks the women who worked on their home as well, for stabilizing the front porch that provides Karen Knox, whose disability and diabetes leaves her mobility severely limited, a prized outdoor solace.
Volunteers also made other critical improvements, such as upgrades to plumbing and windows that will now provide the Jaggers family with clean drinking water and a more comfortable home.
The Women's Leadership Build highlighted the role of women in preserving affordable housing, particularly here in the Bay Area, where the need is dire and has "a particularly significant impact on women and children," as Janice Jensen, our President and CEO, points out. The build provided the ideal launching point for National Women Build Week, which invites women to do their part in building decent and affordable housing.
Along with more than 17,000 other women across the country, our own Women's Crew participated in National Women Build Week by taking part in a clinic offered by Lowe's and applying their newfound skills at build days throughout the week. Lowe's also sent a crew out to help us in our flood relief efforts in San Jose at the end of the week.
Habitat EBSV is proud to be a part of such programs as the Women's Leadership Build and National Women Build Week, and to celebrate the role that women play in our vision of a world in which everyone has a decent place to call home.
Learn more about getting involved with our Women's Crew!