When you see our volunteers working side-by-side in Fremont today, you'll see them building something. What you may not see is that they're breaking something, too. Today, they're breaking boundaries and stereotypes. That's because they're part of Habitat for Humanity International and Lowe's Women Build week, which brings women from all walks of life together and into our mission of building homes, communities, and hope.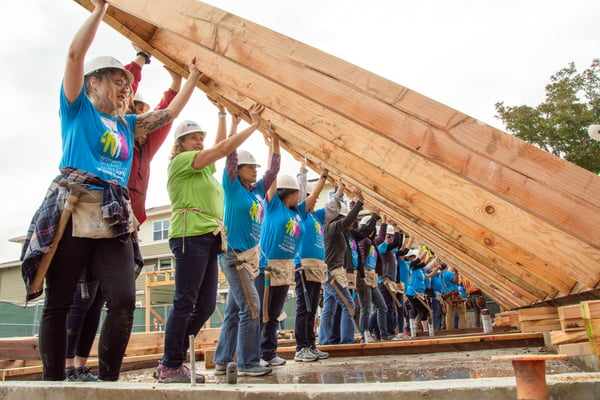 Days like this – a volunteer day dedicated to empowering women to step out of their comfort zones and onto construction sites – represent our firm belief at Habitat, that everyone plays a role in breaking the cycle of poverty – no matter his, her, or their gender.
Women build the way forward throughout Habitat. Women volunteers raise walls. Women homeowners create firm foundations for their families. Women work throughout our leadership, our staff, our site crews. Women shop at our ReStores. Women raise their voices and votes for smart housing policy. Through Habitat, women build opportunity. Women build stability. Women build.
That is why we are excited to honor this community with our #WomenBuild series. Starting with today's Women Build volunteer day, into tomorrow's #InternationalWomensDay, and until our very own Women's Leadership Build, we'll be sharing stories of how women are challenging gender norms, empowering others, and building change with Habitat here in the Bay Area and around the world.
Have your own story? Want to thank someone for their impact? Share your thoughts and stories with us on social media using the hashtag #WomenBuild!