On Friday, May 17th, a lot of women got together to make a lot of noise – and a lot of change.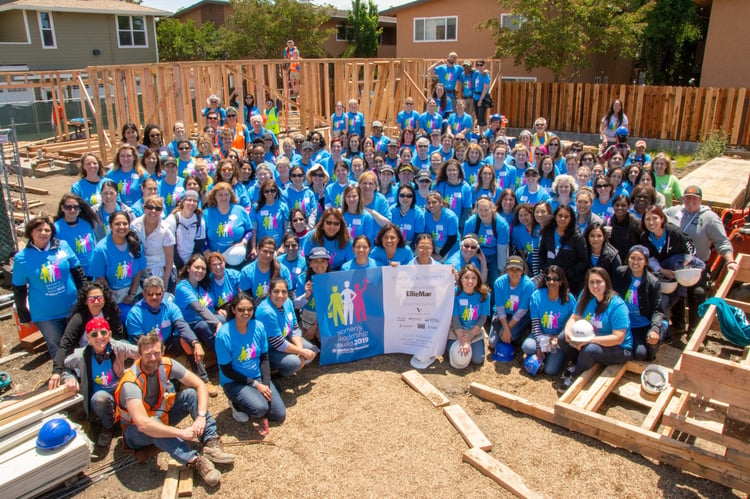 On a day that began with storm clouds, no amount of rain could dampen the spirits of about 150 women, raring to build. Central Commons – our affordable neighborhood taking shape in Fremont – hosted the 2019 Women's Leadership Build, our third and biggest of this growing annual tradition. Just steps from the 11 homes we dedicated in January, volunteers hammered together the beginnings of the next 19 affordable homes that will join them.
The morning began with a few words from key women leaders, who set the tone for a build day pumping with energy, optimism, and empowerment. Laura McCarthy, member of Habitat EBSV's Board of Directors and Women's Leadership Council, opened the program, followed at the podium by Krysta Morgenthaler, our Chief Development Officer. We also heard from Mayor Lily Mei, an ardent supporter of Central Commons both on behalf of the City of Fremont and on a personal level, and Linh Lam, Vice President of Information Technology for Ellie Mae, the event's Premier Sponsor.
No one could serve as a better reminder of the day's purpose, though, than Habitat homeowner Elaine Hays. Elaine and her family contributed nearly triple the required amount of sweat equity
when they were building the Habitat home they have owned for eight years, but that was only the beginning. Since then, the Hays family has continued building it forward to bring affordable homeownership within reach of more families like their own. And this Women's Leadership Build was especially meaningful to Elaine, who brought her 17-year-old daughter, Mandy, for her very first Habitat work day. Elaine recalled how Mandy was just a seven-year-old watching at the fence when her parents and older siblings built their home, and was overwhelmed at the sight of Mandy now donning her own personalized hard hat to carry the work forward. Elaine and Mandy were joined on site by several of our newest Habitat homeowners, who walked the few steps from their front doors at Central Commons to build alongside the volunteers.
The day only grew with energy and sunshine as the women raised the first walls of the day, framed many more walls, and muscled through other vital tasks. Lunch was hosted at Centerville Presbyterian Church, and grilled by our friends at the Fremont Fire Department. While the volunteers enjoyed some much-needed lunch, we held a Speakers' Panel with Elaine, along with women representatives from sponsors Ellie Mae, First Republic Bank, Cisco Systems, Patelco Credit Union, and Silicon Sage Builders. So much change begins with dialogue, and this thought-provoking conversation about housing, community building, and the role of women as change agents was no exception.
At day's end, the women looked around them and saw the first floor of a three-home building framed, its second- and third-story walls prepared, and a construction site in vastly different shape from our morning start. And they knew that the work they'd done had begun months before and would continue long after they put away their tools – because they'd also fundraised to keep Habitat building.
The 2019 Women's Leadership Build grew the previous year's fundraising by nearly 70%, and more than doubled volunteer participation. With $137,263.88 raised so far, we are over 90% of the way to our goal of a full house sponsorship at $150,000. If you'd like to help the Women's Leadership Build cross the finish line, click here to you contribute today!
Thank you to all of the incredible women who built with us at this year's Women's Leadership Build! Here's to the collective power of women, leading the way to build real solutions to one of the most pressing issues we face. With your help, we are that much closer to a world where everyone has a decent place to live.
Click here to see photos from the day!
Thank you to all the sponsors that made this possible!