Cycle of Hope celebrates our fifth year on October 23rd, and there are lots of things that have brought people back year after year. For some, it's the satisfaction of completing an elite athletic challenge with our Century and Metric Century courses. For others, it's meeting a personal physical milestone while benefiting a cause close to their hearts. For still more people, it's a chance to do something as a family that benefits the community.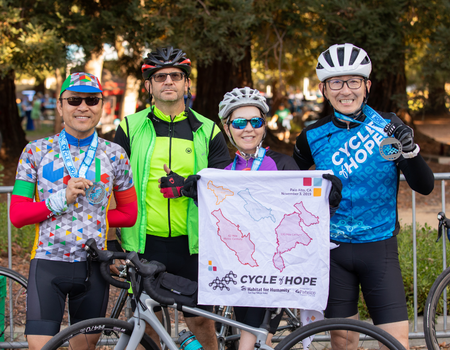 Regardless of what brings you to Cycle of Hope, it's a way to bring our Habitat community together. And
this year, we're lucky to have a gorgeous venue where we can get together! Our friends at
Foothill College
have generously offered their beautiful campus as home to this year's ride, and we couldn't be more excited to host Cycle of Hope there this Sunday!
So, if you like the idea of a beautiful day in a stunning location – and supporting Habitat while you're at it – look no further. Here are a few ways to enjoy Cycle of Hope:
Tackle that personal best
Whether you want to take on a Century or crush a satisfying 9-mile challenge, Cycle of Hope has a course to push you at your level. No matter how far or how tough the ride, all of our routes present a healthy challenge at all skill levels, and you'll cross the finish line feeling amazing about your accomplishment. So, join the hundreds of athletes riding Cycle of Hope to hit a physical goal. Then, come back to a cheering crowd, a hot meal, music, activities, and a chance to enjoy the incredible grounds of Foothill College. So, don't pay a premium to put off the decision until the weekend. Your best Cycle of Hope pricing is now, so get registered today!
Cheer on your favorite athlete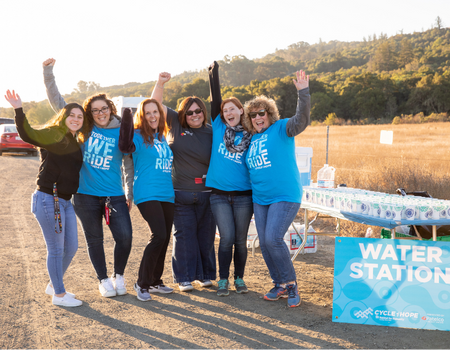 Every Cycle of Hope course has aid stations stocked with food and beverage, but nothing fuels an athlete like being cheered on by loved ones! Plus, Cycle of Hope is family-friendly! So, bring the whole family out for a beautiful Sunday with a fantastic community! There are plenty of activities and a fantastic venue for the family to enjoy while waiting for your athlete to come back across the finish line. So, come on out and spend the day with us! Spectators can
even purchase a guest meal here
.
Volunteer!
Like all things Habitat, Cycle of Hope runs on volunteerism. But, if you volunteer at Cycle of Hope, you won't be getting dusty out on a construction site. Instead, you'll be enjoying amazing views in and around Foothill College while you help us out! We'll need all kinds of athlete and event support on Sunday, and you could help us create a wonderful rider experience that will help Habitat build more. See what roles we need help with, and get signed up here!

However you join us, we've got a great day out at Foothill College in store for you. We've been waiting three years to get this Cycle of Hope community back in person, and we can't wait to see you.