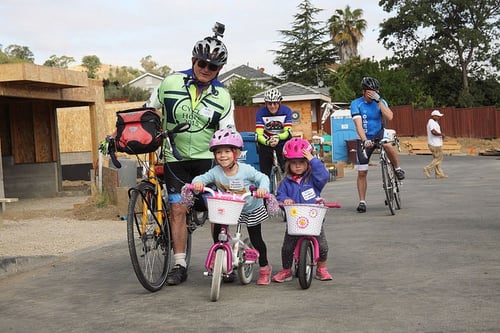 The Bay Area is a cyclist's dream – with unforgettable coastlines, mountains, and let's not forget almost every tech company's pristine campus. Between the breathtaking trails and the camaraderie, it's easy to become a cycling enthusiast in California.
So how does cycling relate to our work here at Habitat? Well, just as cycling brings people together to pedal through obstacles and reach that finish line, Habitat brings people together to raise walls and reach a different kind of finish line – a world where everyone has a decent place to live. This shared passion for community and achieving something bigger than ourselves is what inspired Habitat to host our first benefit ride: Cycle of Hope, presented by Patelco Credit Union, coming up on November 3rd in Palo Alto.
So, why join Habitat, family, and friends in riding Cycle of Hope? Because families rely on it!
Here are 5 ways your journey at Cycle of Hope impacts someone else's journey toward achieving homeownership.
1. Helps build more affordable housing
In one of the most expensive housing markets in the world, we rely on the power of people coming together to help us build more affordable housing. Cycle of Hope is a charity ride that directly benefits our building efforts here in Alameda, Contra Costa, and Santa Clara counties.
2. Empowers families
At Habitat, we do more than build houses. We empower families to help themselves, to break the cycle of poverty, and to lay down a legacy for future generations. Whichever course you choose – you can cruise the Beginner Course, take on the full Century, or ride one of the distances in between – you'll help local families change the course of their futures.
3. Inspires others
We get it - waking up early on a Saturday doesn't inspire many people. But when you register to ride – do it today, before prices increase on October 15th! – you can inspire others to join the movement, too. Share your involvement, encourage your friends to support you, and even bring others along for the ride! Inspiration has its benefits – refer five other riders, and you'll earn yourself a free premium cycling jersey!
4. Provides positive reinforcement
While cycling is beautiful in the Bay Area, it's also hard work. Between elevation gains and cramping muscles, you need some perseverance to get through a ride. At Cycle of Hope, staff and volunteers will be there for you through every turn to keep you going, because when you cross the finish line, you'll send that same encouragement to a family working hard to cross their personal finish line and achieve their dream of homeownership.
5. Creates a community
Whether you're tackling your first Century ride or your first day volunteering on the construction site, Cycle of Hope and Habitat are all about the people. It's about bringing a community together to move us all to the finish line. And whether that's hopping off your bike after a long ride, or placing house keys in the hands of Habitat homeowners, we're all in this together.
Cycle of Hope is about the journey. Ride to support someone else's journey – and make affordable homeownership a reality for hundreds of hardworking families. Join us!