9 Steps to Building A Habitat Home
March 21, 2018 Habitat News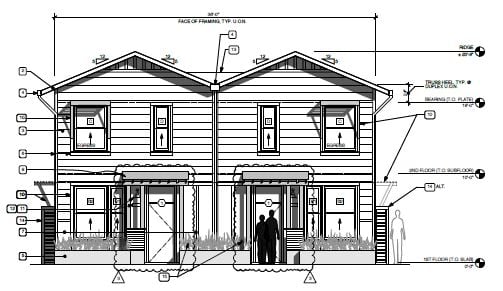 Ever wonder how Habitat builds affordable housing in the Bay Area? Melinda Platt, our Project Assistant and former AmeriCorps Crew Leader, shares the 9 steps of Habitat's homebuilding process.
Finding Property
Habitat's Real Estate Development team finds properties in three ways:

By reaching out to cities and counties to see what lands they have set aside for affordable housing, for which they are seeking a developer – like Habitat – to partner with, sell to, or deed to, for the purpose of building an affordable development.
Through a property owner, who may be facing building restrictions that make it difficult to utilize the land, who is looking to sell to a developer.
By doing our own research in our three-county service area to find available and feasible land for a Habitat development.
Once we find a property, we enter into a contract with the owner of the land. This contract specifies a period of time that allows us to do our due diligence on the property, the next step of this process.
Due Diligence
This process typically takes from three months to one year. During this time, the Real Estate Development team is doing all of its research to be sure that the property is going to be a good fit for Habitat homeowners. This involves steps like:

Reviewing the zoning of the properties to assess how dense of a development we can build
Completing noise, traffic studies, and other related studies
Completing market and feasibility studies
Conducting environmental testing and studies
This is all done to ensure our Habitat developments are safe and family-friendly. If the property is given a green light during this process, we move on to gain our entitlements.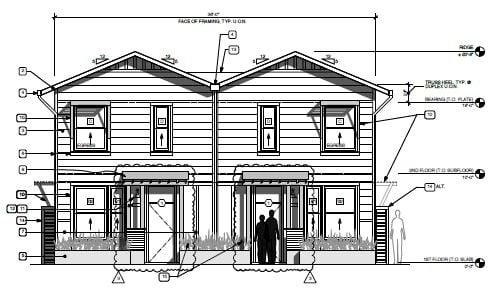 Receive Entitlements
This process typically lasts up to two years. During this time, the Real Estate Development team – along with a partnering design team made up of the architect, structural engineer, civil engineer, landscape architect, and joint-trench utility consultant – work to develop a preliminary set of plans, called the tentative map. We use this tentative map to gain approval from the city. This process may involve zoning changes to increase density or support a residential development, receiving affordable housing incentives for decreased setbacks and parking, and attending public meetings with the city to receive input, and ultimately, approval. This is where your public support helps as well!


Pull Building Permits
This process may last up to a year. During this time we finalize construction plans with our design team, and go back and forth with the city to answer comments and revise the plans to the final state for construction. Once these are approved, we are shovel-ready and can begin construction as soon as we have permits in hand!
Pre-Construction Work
This typically takes six months to a year. Site work starts with any leveling and grading of the site that needs to be done. During this time, we are also constructing streets and sidewalks, as well as making sure all utilities are located where they need to be on site to supply electric, water, gas, and sewer service to our Habitat homeowners.
Build!
This process can last anywhere from six months to three years depending on the size and scope of work of the development. We start by pouring the foundations of the homes. Then the future homeowner completes 500 hours of sweat equity alongside volunteers, performing tasks such as:

Framing the homes
Installing windows, siding and roofing
Weatherproofing
Carpentry inside of the homes
Installing plumbing, HVAC, and electrical
Painting
Landscaping
And much more!
This is where our strength in numbers comes in. We cannot build homes in partnership with Habitat homeowners without our amazing construction team (Shout out to Ben, Drew, Chuck, and Jacob), our AmeriCorps Crew Leaders, and the many dedicated volunteers who build with us on site.
Walkthroughs with Homeowners
Once our construction team recieves the Certificate of Occupancy, the home is move-in ready and we complete a walkthrough with our homeowners. This process typically takes two or three weeks.


Closing the Homes
Our Client Services team is the backbone of the closing process! They begin the closing when homes are move-in ready. Our homeowners sign their purchase agreements, complete their final documentation, and within 30 to 60 days are ready to receive their keys and move in!
Move In
The most important step! Our Habitat homeowners move into their homes and start their new lives with an affordable monthly mortgage payment!
Want to learn more about how you can make help make Habitat homes a reality? Join our Advocacy Alerts email lists and receive information about using your voice to support Habitat and other affordable housing initiatives!