Drew, one of our Site Superintendents, puts it simply: "I don't think our organization could run without our AmeriCorps."
Drew would know. As a former AmeriCorps member himself, he now relies on AmeriCorps members to keep his construction site running and our volunteers engaged, safe, and happy. Habitat East Bay/Silicon Valley's AmeriCorps members stand among over 80,000 peers in the AmeriCorps National and Community Service program, whose members work with various organizations nationwide to strengthen communities. Here at Habitat East Bay/Silicon Valley, these dedicated service members serve vital roles throughout the organization, and you can't be on site or in the office without running into one of them.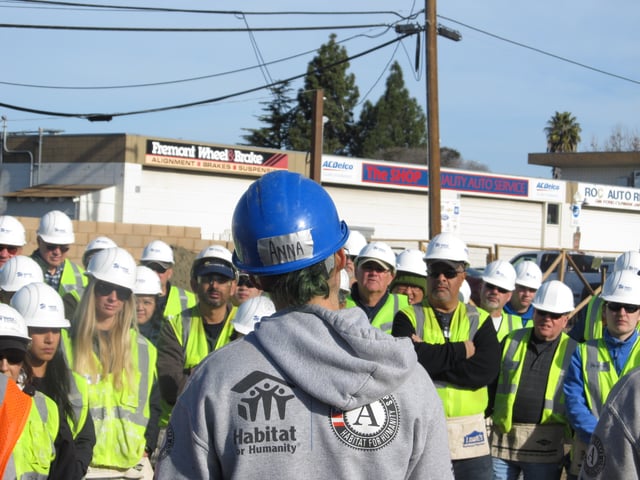 Our AmeriCorps National members work closely with volunteers every day as Crew Leaders on our construction and home preservation sites. Many of them start their service term with little to no construction experience, and as Crew Leaders, they grow their skills and successfully lead volunteers through the tasks and projects that build homeownership opportunities for local families. They experience, firsthand, the passion behind the community of families, volunteers, and staff that come together to build more than just a house.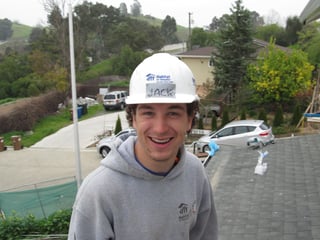 Jack, one of our AmeriCorps Crew Leaders, believes the Habitat spirit is unique. "Everybody here wants to be here," he says. "There's something different in working with people who are not required to be where they are."
It's not just on the construction site that you'll find AmeriCorps building. In our Oakland and Milpitas offices, AmeriCorps VISTA members are building, too – they are addressing the affordable housing crisis through resource cultivation and expansion, project development, and community outreach. By leveraging resources, VISTA members are implementing long-term projects that will help Habitat serve many more people in the years to come. Thega-Alem, our Digital Marketing Coordinator, loves the connection her work gives her to Habitat's mission. "I get to voice a family's story," she says. "From the struggles they faced before affordable homeownership, through the journey of teaming up with Habitat, to fulfilling the goals they never thought would be possible."
Through endless hard work and dedication, AmeriCorps serve our communities in their mission to impact the lives of those in need. Whether they wield a hammer or a keyboard, they play a critical part in our ability to build a world where everyone has a decent place to live.
Leave our AmeriCorps a message in our comment section to say thank you for dedicating their time to making a difference in communities all over America.
Learn more about AmeriCorps and service opportunities.