Mulikatu and Abdul Aremu-Bello came to the United States from Ghana hoping to find a better place to start and raise a family. Instead, they landed in a series of cramped apartments in Oakland, each in a congested and high-crime area. For the past eight years, they've lived in an apartment complex on a busy street in East Oakland, where their six-year old twins are not allowed to leave the apartment compound to play. Outside is crowded, noisy, with gunfire being a regular occurrence. Police are "all over the place."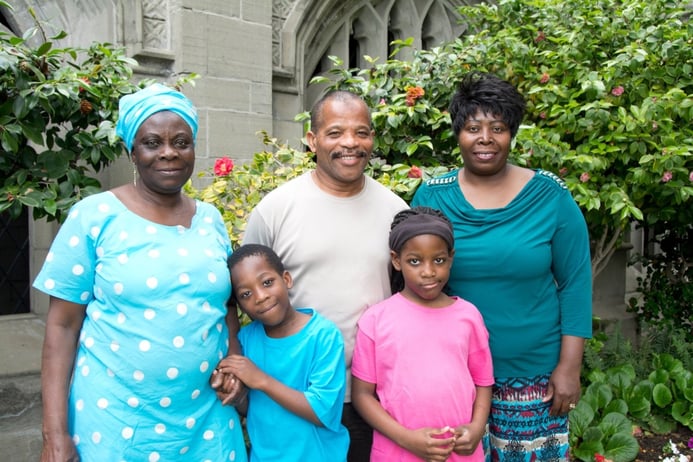 Adding to their concerns is the fact that Mulikatu, a medical technician, works in Vacaville – on many days a two-hour commute each way. They've wanted to buy a home, but given the cost of living found it impossible to save for a down payment. "We thought we were never going to be able to buy a house in America," said Mulikatu.
They learned about Habitat from a family friend – it turned out two different families they knew had purchased Habitat homes. The couple was doubtful at first, but ultimately applied and qualified for a home in Martinez. In 2017, they will move to their new home in the Muir Ridge complex with their twins, Fareed and Fareeda, and Mulikatu's mother, Georgina. Mulikatu's commute will be cut in half, allowing her more time to spend with her family.
The children, who currently share a bedroom with Grandma, are looking forward to having their own rooms. At six years old, Fareed is already telling his parents "I need my privacy." He plans to paint his room red, with Spiderman posters on the wall. His sister has opted for blue paint and posters from the "Frozen" movie. Over superheroes and Disney movies, education is number-one in this household! Both kids are excited have desks of their own in their room for homework.
Abdul and Mulikatu have been excited about the sweat equity opportunity. Abdul, who had no construction experience, has been enjoying learning new carpentry skills. Grandma Georgina is getting in on the act as well, with caulking, spackling and painting.
The family is looking forward to becoming homeowners for the first time. But perhaps more than that, they're looking forward to the quiet. "From early morning till late at night, we hear noise, sirens, gunfire," says Abdul. "More than anything," says Abdul, "we just want some peace."
As they stood outside the Habitat offices saying goodbye to staff, the children walked away to the expanse of lawn next to the building. While the grown-ups chatted, Fareed and Fareeda ran around in circles, enjoying the open space, stopping at times to blow on dandelions. Mom and Dad couldn't help but think about the fact that sometime soon, their kids would have the freedom to run around outside their own home – something they can only dream about now.