When most people think of Habitat for Humanity, they think of homeownership. They see volunteers raising walls, and house keys in the hands of new homeowners.
While providing affordable homeownership, home repair, and housing counseling opportunities to families with limited incomes is our driving mission, we see the need here in the Bay Area to serve some of our communities' most vulnerable neighbors – individuals experiencing homelessness. We know how transformational a safe, stable home can be, and that is why we are so honored to be partnering with the City of San Jose and HomeFirst Services in building Bridge Housing Communities.
Bridge Housing Communities will be a safe, dignified, and supportive way for our unhoused neighbors in San Jose to transition into permanent housing. Eighty sleeping cabins will be installed across two sites in San Jose, with features like dual-pane windows, insulation, heater, shelving, lighting, smoke detector, and a locking door. The communities will also have communal spaces for kitchen, laundry, bathrooms, showers, and sanitation, as well as office space for services and case management.
We've put our construction experience and volunteer power to use by serving as the Bridge Housing Communities' general contractor. The City is the landowner and lead on this project, and HomeFirst is part of the resident selection process, as well as the long-term property and service manager.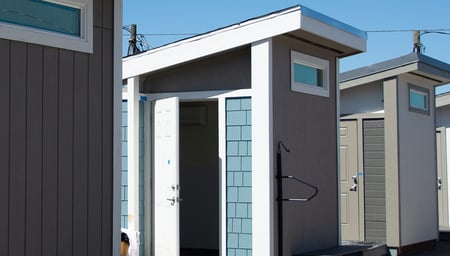 Thus far, volunteers and Habitat advocates have helped us raise the (slightly smaller) walls on the first 40 cabins as well as constructed the common and meeting spaces for the Mabury Housing Community, the first Bridge Housing development in the City of San Jose. By the end of the year, this community will provide interim housing for homeless individuals as they find stability and self-reliance with the support of HomeFirst services.
In our 33-year history, we've served over 10,000 people – we know the power of a stable, permanent place to call home. By taking part in this innovative collaboration, we're able to broaden our impact and bring that stability within reach for more people. Our work has always brought a community of support together to create a world where everyone has a decent place to live. Bridge Housing is an exciting way to bring that community together and extend that vision to even more of our neighbors.
Learn how to get involved here.