Summer is heating up, and so are our construction sites! See what volunteers have spent their summers doing to #BuildMore for families.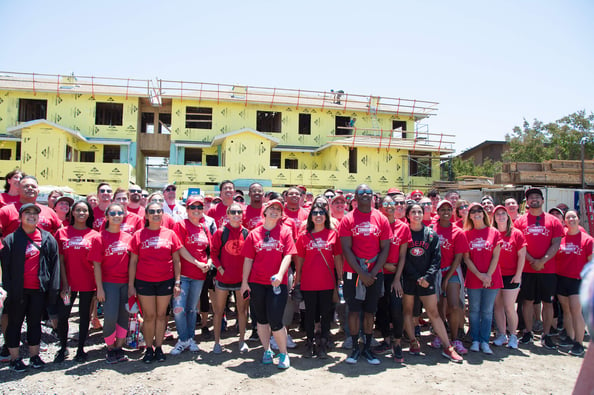 Fremont, Central Commons (30 New Homes): Getting these homes watertight in time for the rainy season takes a lot of work. Volunteers are busy putting up exterior drywall, house wraps, and roofs! Interior painting is next on the to-do list! Did any of our 49ers fans catch the team out on site just a few weeks ago? Check out the photos from this very spirited day!
Martinez, Muir Ridge (20 New Homes): The time has come. After four years, this development is a wrap! Last month, some volunteers got together with the homeowners of Muir Ridge to celebrate all the amazing work they accomplished together – the Habitat community has created a new, thriving neighborhood that will host the next chapter in 20 families' lives. Read more about how this development transformed lives and the landscape in Martinez.
Berkeley (1911 Harmon St, 1 Home Renovation): This major renovation is really taking shape now, with volunteers busy installing window trim, siding, and a new deck!
San Jose Vermont House: It was honor to serve as the general contractor of Vermont House. Habitat volunteers help transform two old Victorians into a new home for 16 homeless Veterans. Funds raised from this project were then put back into the community by supporting Habitat's new home construction. Learn more about this innovative way we are serving our communities.
Want to help make all these great projects possible? Join our Habitat team for a year of service through AmeriCorps! Click here to learn more and apply today!