Along with Spring, construction has sprung across Habitat for Humanity construction sites! Check out what has been shaking on site:


Oakland (Manila Avenue): Habitat staff and volunteers wasted no time getting to work, bringing these two vacant homes back to life! From framing to trim work, this volunteer opportunity in Oakland has a little bit of everything.
To provide adequate space for social distancing and other health and safety measures, volunteer opportunities are very limited and go fast! Click here to see future availability.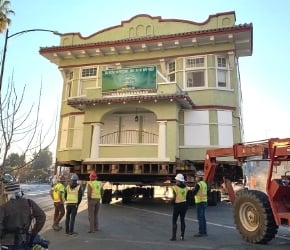 San Jose (4th & Reed St): As you may have heard, this renovation project is on the move – literally! At the end of March, we partnered with the City of San Jose and the Preservation Action Council of San Jose to #SavethePallesen by moving the 111-year-old historic building 900 ft to its new home on Fourth & Reed Streets. Now that the building has been relocated, we're securing entitlements, pouring a new foundation, preparing the site and utility connections, and fundraising the support we'll need to renovate this beautiful property into four affordable homes. We hope to start welcoming volunteers at the end of the year to help us take this historic building into the 21st century while preserving its unique character.


San Jose (Guanacaste Ct.): Renovations to this single-family home are happening fast! Staff and volunteers have already completed demolition and are now working on drywall, interior paint, and installing cabinetry and countertops. Next up, flooring! With this type of progress, we'll have a family moving in by the end of summer!

Update on Upcoming Habitat for Humanity Volunteer Opportunities:
Volunteer Opportunities in Walnut Creek:
Our site staff is hard at work and keeping us on track to get volunteers on site at Esperanza Place, our new 42-home development, this summer! However, there is still a lot of work to be done behind the scenes before we can get shovels in the dirt.
With the wellness of our Habitat staff and volunteers as our top priority, we will continue to enforce our health and safety guidelines and limit the number of volunteer spots available for each site. Click here to see our up-to-date volunteer calendar and to sign up for a time that works for your schedule.

Stay updated on these volunteer opportunities by following @HabitatEBSV on Facebook and Twitter and @Habitat_EBSV on Instagram!