In the heart of Walnut Creek, nestled along the Iron Horse Trail, a vacant lot sits on Las Juntas Way. It's unassuming at the moment, but Habitat for Humanity will soon break ground here and start construction on our newest development, known as Esperanza Place. It's true to its name –esperanza is Spanish for hope, and hope is what will bring a community together in partnership with 42 families to build a new neighborhood and, with that, new dreams.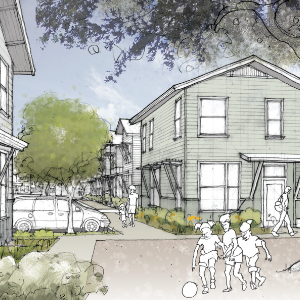 These new homes will mean new beginnings for 42 future homeowners. These homes will mean security and room to thrive. A stable, affordable mortgage and a place to count on. A community to plant roots in. A parent's peace of mind and a child's quiet place to study.
Our First Zero Net Energy Development
They will also mean new beginnings for Habitat. Our first Zero Net Energy development, Esperanza Place will break new barriers in the affordable green building movement. From rooftop solar panels down through water-efficient landscaping, we're integrating sustainability throughout the design and construction process to ensure that Esperanza Place contributes more energy than it consumes – so that it takes a lower toll on the environment and our homeowners' wallets.
Esperanza Place is also high-density and transit-oriented, which means we are maximizing our land resources to bring homeownership within reach for more families, and keeping those families close to transit – BART, bus routes, and the Contra Costa Centre transit village are all a stone's throw away – and a network of pedestrian and cycling trails. It all makes for reduced congestion and emissions on our roads and highways, and the fostering of healthier lifestyles.
A New Community at a Glance
The one-, two-, three-, and four-bedroom townhomes will be grouped into eight buildings, surrounding a central community space for neighbors to gather and children to play. At Esperanza Place, we will serve qualifying families earning up to 120% of Contra Costa County's Area Median Income , who will purchase homes – an opportunity difficult to come by for so many in the Bay Area – and do so affordably.
Our Client Services team is currently taking applications to be added to our Buyer Ready List and considered for homeownership within this development. Click here to learn how to apply.
Help #BuildMore
We look forward to breaking ground this spring, and kicking off volunteerism with foundation work and framing in early summer. When we're able to welcome volunteers on site, we will follow strict health and safety practices that align with the latest CDC guidelines. Follow us on Facebook, Twitter, and Instagram for the most up-to-date volunteer information!
Habitat for Humanity can make these opportunities affordable for families because we have the support of a community. Whether it's volunteers who build shoulder-to-shoulder with future homeowners, donors who open their hearts, sponsors who give generously, or people who advocate for the policies that pave the way for developments like Esperanza Place – it's our community that turns vacant lots into places of hope.