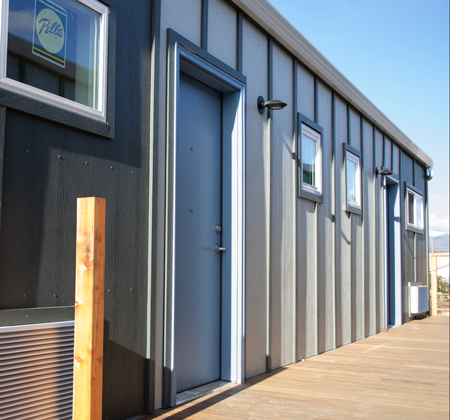 We are so grateful for our staff, AmeriCorps, and volunteers who continue to follow our health and safety guidelines to keep our site safe, healthy, and open to move our work forward! By working together, these folks made this construction update possible! Check out the progress made on site and our future Bay Area volunteer opportunities to keep on your radar:

San Jose (Rue Ferrari)
: This Emergency Interim Housing community is completed and is already at capacity! With the help of services from our partners at HomeFirst, this new community will help 120 unhoused neighbors find job opportunities, transition into permanent housing, and achieve the stability they need to succeed.
San Jose (Evans Lane): Progress continues to be made at this Emergency Interim Housing community, and our staff and volunteers are completing finishing touches like landscaping and electrical work. Once it opens, this 36-unit community will serve up to 120 individuals and families experiencing homelessness in San Jose.
Update on Upcoming Habitat for Humanity Volunteer Opportunities:
2021 is shaping up to be a busy year! Here are few upcoming volunteer opportunities on a Habitat for Humanity construction site:
Volunteer Opportunities in San Jose:

We have a new renovation project on Guanacaste Ct. in San Jose, where volunteers will be needed starting in March. Volunteer space will be very limited at this site to accommodate safe social distancing practices, so this is the ideal individual volunteer opportunity or a great way to get you and members of your household out of the house!

Volunteer Opportunities in Oakland:

Volunteer Opportunities in Walnut Creek:

We're busting at the seams with excitement

to get construction started at our newest 42-home development – Esperanza Place! However, there is still a lot of work to be done behind the scenes before we can get a shovel in the dirt. Our site staff is working hard and keeping us on track to break ground soon and get volunteers on site starting this summer!
With the wellness of our Habitat staff and volunteers as our top priority, we will continue to enforce our health and safety guidelines and limit the number of volunteer spots available for each site. Click here to see our up-to-date volunteer calendar and to sign up for a time that works for your schedule.
Stay updated on these volunteer opportunities by following @HabitatEBSV on Facebook and Twitter and @Habitat_EBSV on Instagram!