Fremont (Central Commons – 30 new homes, 2nd phase): When you step onto our Central Commons development in Fremont, you'll see the remaining 19 homes coming together, with volunteers at work, hard hat on and hammer at hand. Lately, we've been taking on big tasks like roofing, house wrap, and HVAC chases to get us ready for the rainy season ahead. Soon, volunteers will shift to work inside the homes to get us ready for move-in!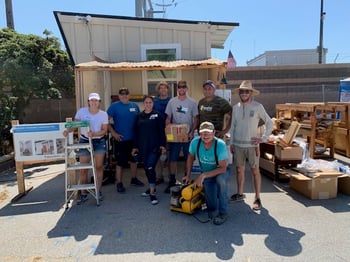 San Jose (Bridge Housing Communities – 1590 Las Plumas, San Jose): Ever wonder what it's like to volunteer on a construction site that is conscientious, rewarding, fun, and knows how to get things done? We're looking for volunteers to join us in building the bridge to a stable future for our homeless neighbors as part of Bridge Housing Communities. Join us as we work on tasks like fencing, benches, desks, siding, stairs, standing walls, electrical work, deck rails, ramps, carpentry, flooring, and wall framing. You don't need experience in construction to join us!
Sign up here to volunteer with Bridge Housing.