It's that time of year when things seem to FALL into place at Habitat! See what staff, AmeriCorps, and the folks at the heart of it all – our volunteers – have been up to on (and off) the construction site.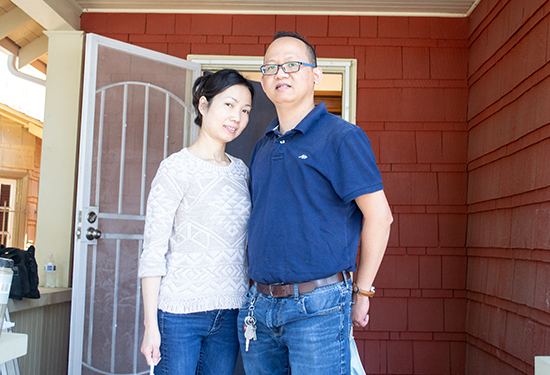 Oakland (Manila Avenue): Earlier this month we celebrated the completion of the first home of this two-home renovation with the Habitat partner who made this all possible – Kaiser Permanente. In 2020, Kaiser donated four single-family homes to Habitat and the Oakland Community Land Trust as part of their commitment to invest in affordable housing. Fast-forward to today, and a family of three is eager for move-in day to the first of these homes, newly renovated by Habitat staff, AmeriCorps, and volunteers. Click here to read Kiet's story.
While Kiet and his family get ready to move into their new home, Habitat has moved next door! Until we receive our finalized permits from the City of Oakland, we'll be working on small, exploratory demolition projects. We expect to start full demolition and construction on this second home as early as next month.
Walnut Creek (Esperanza Place): You can still feel the excitement from last month's Groundbreaking Ceremony on the site of this 42-home development! Staff is working hard to wrap up the site development permits with the City of Walnut Creek. We expect to start initial site work toward the end of this month and welcome volunteers at the beginning of next year.
Our Client Services team and our Family Selection Committee are working behind the scenes to help families through the application process, conduct interviews, and select this community's future homebuyers. So far, seven families have gone from being on our buyer-ready list to fully-approved Habitat partner families working on their sweat equity! Meet Rita, one of these new partner families who will call Esperanza Place home.
San Jose (4th & Reed St): To ensure that we preserve the historical integrity in our big plans to renovate this century-old property into four affordable homes, we worked closely with a local historian throughout the design process. Last month we submitted entitlements to the City of San Jose and are now waiting for approvals. We hope to start welcoming volunteers at the start of 2022!
Cycle of Hope: Off the construction sites, Habitat staff and volunteers have been busy putting together Habitat's largest annual fundraising event – Cycle of Hope! With virtual cyclists (and our new virtual DIY-ers!) kicking off the event earlier this month – and our in-person riders gearing up for the start line in Palo Alto on October 24th – staff and volunteers have been hard at work finalizing logistics, mailing our swag bags, and much more!
Want to get in on the action? Register to ride virtually or in-person, or sign up to volunteer!